6 Best Beaches in Tampa: By A Local
Tampa is home to some of the best beaches in Florida. We have busy beaches with tons of entertainment or even quiet secluded beaches. Tampa has a beach that is right for you. This list will go over the best beaches near Tampa. These beaches are located across the Howard Franklin bridge and take about 30 min to 1 hour to get to from Tampa. The beaches located directly in Tampa are located on the bay and have murky water. The beaches over the bridge are worth the drive! So follow along to find out the best beaches in Tampa.
Upham Beach
Upham Beach is a hidden gem. It's off the main path of St Pete Beach but has the best views and fewer crowds. Upham beach has a view of St Pete Beach with a feel of a natural beach. This beach is kinda hidden off to the side in a residential area. This is a public beach with a concession stand with food and drinks. Visit Upham beach for fewer crowds and a better view.
St Pete Beach
St Pete Beach has lots of crowds, places to eat, and drink on the beach. Come to St Pete beach if you want to hop around getting food and drinks at different beach bars or restaurants. You can actually walk up to the restaurants from the beach. This is the busiest beach in St Pete. You can also rent jet skis, paddleboards, and more water toys here.
Fort De Soto Beach
Fort De Soto Beach is Perfect if you have a hammock and just want to relax on the beach. This is one of the most natural beaches in St Pete. They charge a $5 parking fee that lasts all day. There is a ton of parking. No need to drive around for hours trying to find parking. You can even come late in the day and still find parking. They have a few different beaches in the park. My two favorites are the beach at the pier and the beaches around Pavillion 3. There is a nice spot for hammocks around Pavillion 3. You would need to make a right when you enter the park and go all the way down to the left. Fort De Soto is actually a historic site with a fort on-site, so you could check that out as well They also have two fishing piers.
Now, there are 2 state parks called Egmont Key and Shell Key that you can visit from Fort De Soto. You can only reach them by boat or ferry. There is a ferry that costs around $25 per person to visit Egmont Key and $20 for Shell Key from Fort De Soto. The trip will vary in time but can last from 2 hours to about a full day.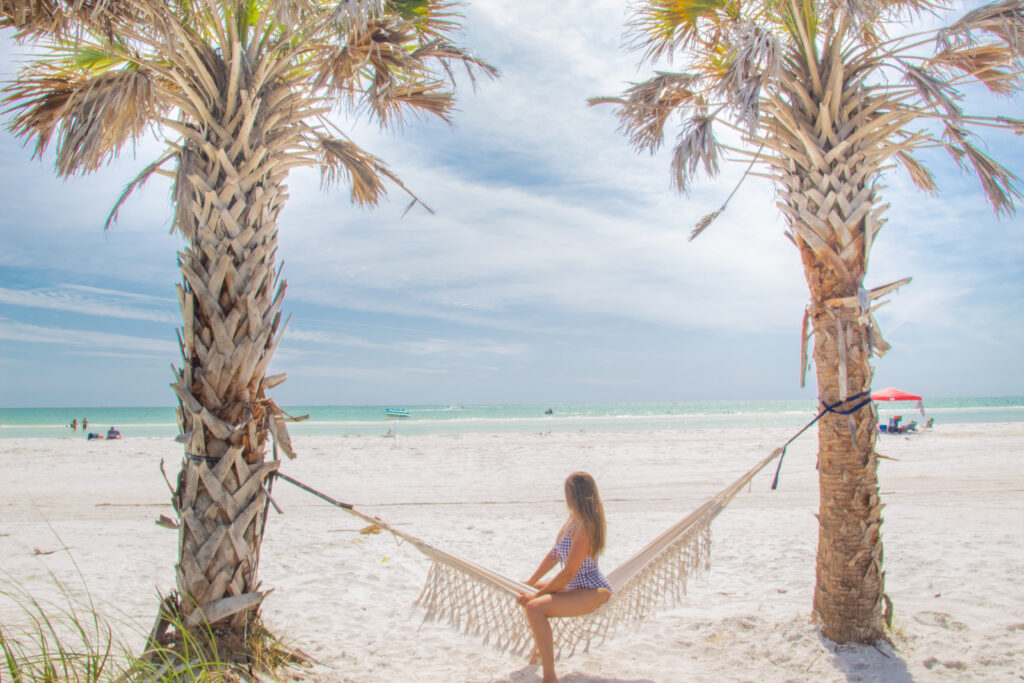 Spa Beach At St Pete Pier
Spa Beach at the St Pete Pier is convenient if staying in the downtown area. There are free chairs to lay in and a picnic area with shade. It doesn't have that pretty blue water that St Pete Beach, Fort De Soto, or Upham beach has. Spa Beach is a perfect spot to hang out if you are short on time. You will get a view of the water and a city view at the same time. So not bad at all! There are tons of places to grab a bite to eat if you get hungry. The St Pete Pier also has a walking path and plenty of places to chill.
Madeira Beach
Another one of the best beaches in Tampa is Madeira Beach. The watercolor is super pretty here with views of a sandbar. The John's Pass Boardwalk is an area that you wanna check out. I promise you won't be disappointed! They have a beach on one side that does get busy, so show up early to get parking. Madeira Beach does have metered parking and a parking garage. So plenty of parking. They have boat tours, jet ski rentals, bars, and restaurants. Plenty to keep you busy! John's Pass also has plenty of restaurants serving mainly seafood but other options as well. Scully's has one of the best views on the boardwalk and I recommend eating on the patio.
Clearwater Beach
Clearwater beach is about an hour's drive from Tampa with a completely different vibe. There is a ton of stuff to do like dinner cruises, jet ski rentals, and the cruise on the pirate boat. This beach has plenty of restaurants and stores for shopping. Here you can find restaurants that are waterfront with a sunset view. The Rockaway and Grand Pavillion are 2 restaurants right on the water with good food. Jimmy Crow's nest is a nice rooftop bar with amazing views. Island Way Grill another great restaurant with awesome seafood and steaks. Frenchy's is great for casual food. They do have parking garages or metered parking but it's best to show up before 11 am to get parking.
Clearwater Beach also has a bike, scoot coupes, surrey bikes, and golf cart rentals to cruise around in. The scoot coupe is a 3 wheel small motorized sit-down scooter that you can drive on the streets. The surrey bike is a 4 wheel bike that looks like a golf cart but instead you pedal.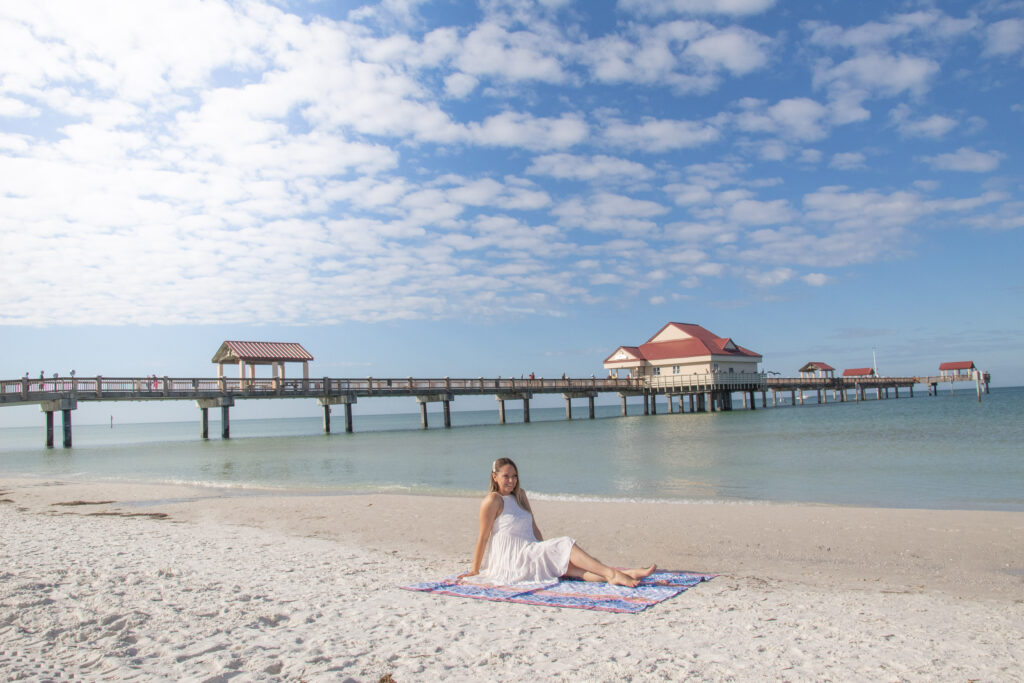 Where To Stay On The Beach
Now St Pete and Clearwater beaches will have the biggest resorts with everything within walking distance. I recommend staying in either place. You can always drive or uber to another location if needed.
Grand Plaza Hotel – Located directly on St Pete with the best view of the beach. This hotel is great because you can wake up and walk on the beach. They also have a nice rooftop bar called level 11 with an amazing view of the ocean and canals. View reviews and photos.
The Beachcomber – This is another great spot located directly on St Pete beach. They have a nice beach bar called Jimmy B's and a nice setup for adults. Check out photos and reviews.
Sirata – Another hotel oceanfront with a pool facing the ocean. They have hammocks, volleyball and cabana rentals. The Sirata is a family friendly resort on St Pete Beach. View photos and reviews.
Sand Pearl – Stay here if you are looking for luxury and want to be directly on Clearwater Beach. They have a nice pool with hammocks for relaxing. Check out photos and reviews.
Hyatt – This is the big pink hotel on the main drag of Clearwater Beach. They have an awesome location which is walking distance to everything you need. They have a nice rooftop pool and spa to relax at. View photos and reviews.
There you have it the 6 best beaches in Tampa. I live here in St Pete, so reach out if you have any questions. If you are looking for food near St Pete then check out this list. 20 best restaurants St Petersburg