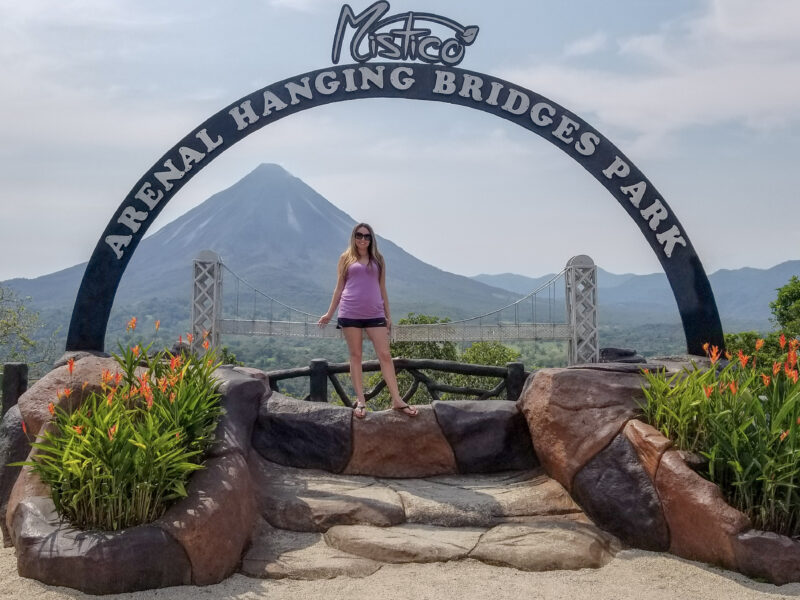 Ultimate Costa Rica Packing List: What To Pack
This is a must-read guide on what to pack for Costa Rica. There are 2 main seasons in Costa Rica which are dry and rainy season. This Costa Rica packing list will help you pack for both seasons. The weather can vary in different regions slightly. I would recommend packing layers of clothes since the weather can change so fast.
Costa Rica is mostly casual except for the major city. This Costa Rica packing list is mostly for rural areas and beach towns. Stick with casual and comfortable clothing and you will fit in. This list will help you pack for hiking, zip-lining, and similar activities.
Suitcase
Bring a lightweight suitcase for your trip to Costa Rica. A medium-sized suitcase should work if you visit for a week (24-inch bag). The suitcase below comes in 3 different sizes ( 20-inch, 24-inch & 28-inch). The 20-inch bag should work as a carry-on bag. The 28-inch suitcase would be great if you want the extra room or staying longer than a week.
EarPlanes
EarPlanes are earplugs that relive air pressure while flying. These worked wonders on my last flight. My ears did not hurt during or after the flight. This is another option instead of chewing gum. I like the earplanes because you can go to sleep and wake up feeling fine. 1 pair of Earplanes lasts for about 6 flights which are worth it.
Hiking Bag
Bring a hiking bag. Which bag you will bring depends on when you go and how far you will be hiking. Choose a bag that is lightweight and water-resistant for the wet season. Select a bag that will fit a water bottle, phone, and raincoat. Below is a cute bag that is great for dry season (from Nov to April). The bag below would be great for a medium-length hike.
Waterproof Hiking Bag
A waterproof hiking bag is a must in the rainy season. The bag below is small and lightweight. You can wear this bag in front of you if you are worried about theft. It has many departments to store your phone and a water bottle. This is great for a short hike for like an hour or two. I actually used this bag on my trip to Costa Rica and it was perfect.
Hiking Shorts
It helps to have thin lightweight shorts for the hot months in Costa Rica. Buy shorts that will dry quickly in case it rains. I always wear running shorts hiking because I Like the way running shorts fit better than hiking shorts. Running shorts are super comfortable while hiking.
Hiking Tank Top
Pack a few tank tops that are thin and repel water for the dry or rainy season. Costa Rica will get hot and I recommend to bring tank tops to keep you cool. During November or December, it's a good idea to bring a t-shirt and a long sleeve shirt. You want shirts and tank tops that breathe well and repel water like the Columbia Tank.
Long Sleeve Shirt
I would pack 1 long sleeve shirt if you visit in the winter months. It could cool down after it rains or in the evening. If you are also staying in the jungle, it will be cooler and might want to pack a few.
Hiking Pants
Pack pants that are lightweight and comfortable for hiking in. Pants are great in the rainy or dry season because they protect you against insects. These are a must in November or December. November and December are the coldest months in Costa Rica. Don't worry, it doesn't get that cold in Costa Rica. At night, it could drop down to 60 degrees at the lowest.
Bring 2 pairs in case 1 pair gets muddy. Now, it can still rain in the dry season. Be prepared and bring at least 1 pair of pants in the dry season. These are the pants that I wore and they were so comfortable.
Raincoat
During the rainy season, it could downpour at any time or all day long. In rainy season you must bring a raincoat. However, it can still rain in the dry season, so bring a thin raincoat. The raincoat below is perfect for hiking because it has zippers for ventilation and its thin. I wore this coat hiking in Costa Rica and it was super comfortable. I still have the coat and its good quality.
**Tip – Bring layers of clothes like tank tops, shirt & long sleeves shirts in case it heats up or cools down. Bring thin clothes, so they will fit in your hiking bag easily.
Hiking Shoes or Sandals
A quality pair of hiking shoes or sandals should be on your Costa Rica packing list. During my trip to Costa Rica, I bought low-quality shoes. My feet had blisters and it was very uncomfortable. I would pick a quality hiking brand. You will be wearing these shoes quite a bit. You want to make sure the shoes or sandals dry quickly if it rains. Keen Hiking Sandals are of good quality.
Bring a closed-toe shoe if you plan on zip-lining or doing anything similar. Most places will not let you zip line in sandals. Hiking shoes or boots will work. I would look for comfortable shoes because you don't want to be in pain walking. I would wear the shoes for about a week before be going to break the shoes in.
**Tip – Be sure to wear the shoes for about 1 week to break them in.
Insulated Water Bottle
You want to make sure you get a water bottle that is insulated. It can be hot in Costa Rica and ice cold water can help ease the heat. Bring at least 1 water bottle with you for a short hike. Bringing a water bottle will also help you save money because you can fill it up at the hotel.
Leggings or Yoga Pants
Leggings or Yoga pants are perfect for going zip-lining or hiking. Nike is one of my favorite brands of sports tights. I also like to wear leggings or yoga pants on the flight. I recommend at least 1 pair for your trip if not more. Nike Training Tights
Dresses
Pack a few casual dresses for dinner or beach days. Costa Rica is a casual place, so no need for a fancy dinner dress. I even ate at a high-end restaurant and it was pretty casual.
Sunblock
The sun in Costa Rica is very strong, especially in the summer. Make sure you bring enough sunblock. I always wear Neutrogena sunblock because it doesn't make my skin breakout or feel oily. Be sure to buy your sunscreen before arriving in Costa Rica. It will cost more money in Costa Rica. I prefer to wear a 50 to 70 SPF sunblock. Bring at least 30 SPF to Costa Rica. You will need to apply the sunblock a few times a day. Neutrogena face Sunblock Neutrogena Cooldry Sport Sunblock
Bug Spray
Protect your skin from insects and use bug spray. Some of these insects carry viruses and diseases like the Zika virus. These are brands that I recommend using.
Off! Deep Woods Insect Repellent
Swimsuits, Beach Hat & Sunglasses
Bring a couple of swimsuits, so you can switch them out as needed. Pack a beach hat and sunglasses. Have a backup pair of sunglasses in case you lose a pair.
This is my Costa Rica packing list. The main thing to remember is to pack lightweight thin clothes that repel water. Costa Rica does not have a winter season, they have a dry or rainy season.
Here are some photos of what I wore in Costa Rica. If you need help deciding where to go in Costa Rica, check out my 7 days in Costa Rica blog post!
Costa Rica 7 day Itinerary here