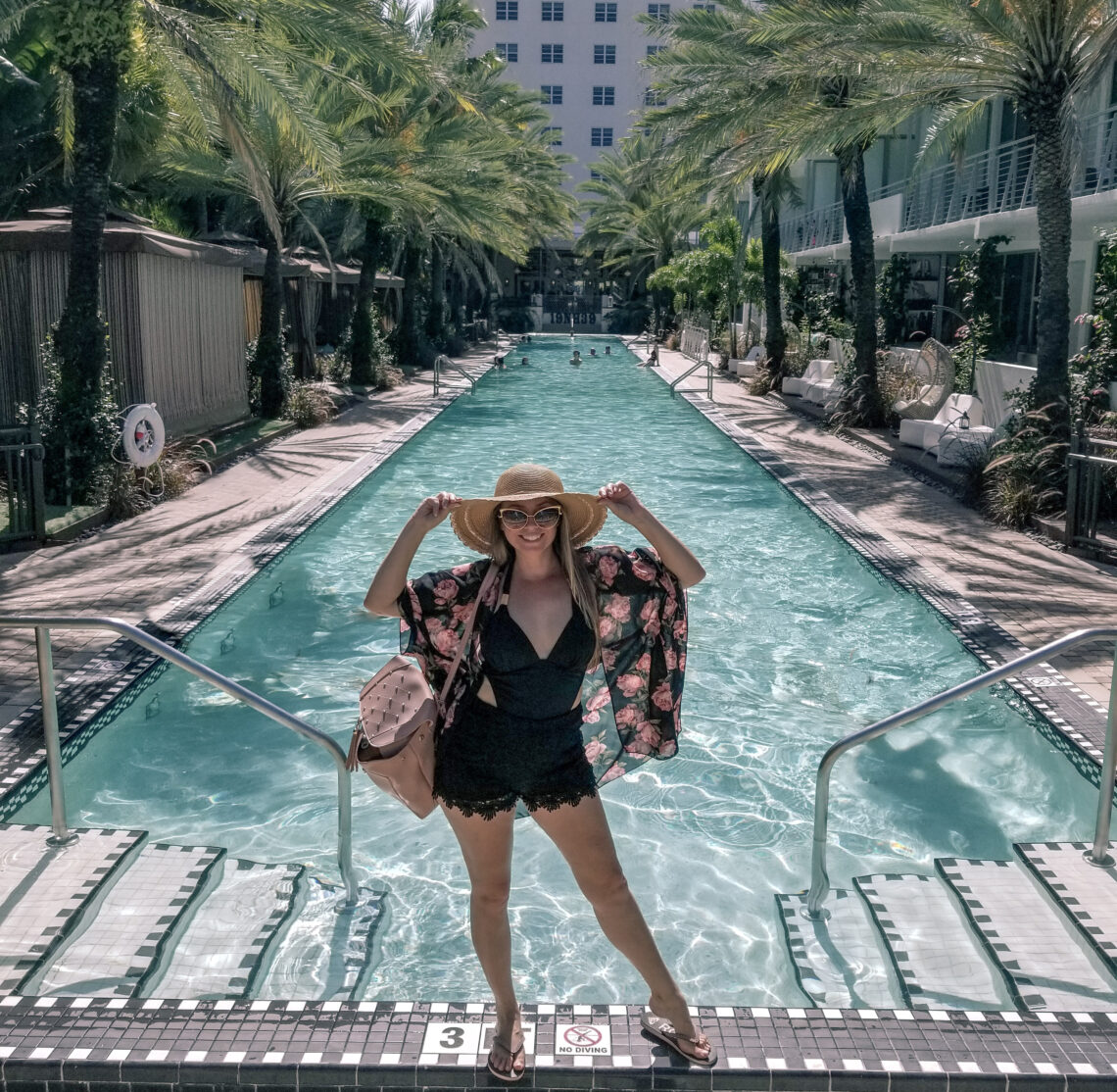 Best Things To Do In Miami (Updated May 2020)
Miami Florida is one of the top places to visit in Florida. Miami has it all from nightlife, pool parties, lazy pool days, shopping, food, and museums. The beaches in Miami are amongst the best in Florida with plenty to do. The places you should visit are Brickell, Miami Beach, and Coconut Grove area. This Miami travel guide will help you find what to do, where to eat, and sleep. It covers all the best things to do in Miami.
Things To Do In Brickell
First, on the Miami travel guide is to head over to Brickell for either a cocktail or dinner and enjoy the view! Brickell offers some of the best views of the skyline in Miami. This is a must-see if you enjoy the city since Brickell is located in downtown Miami. I would spend one evening getting drinks or dinner. Check out these spots for the best views.
Yaku by La Mar or Mo Bar at the Mandarin Hotel – Located on Brickell Key with an awesome waterfront view of Miami. Both the restaurant and bar have amazing views of glitzy Brickell. Happy Hour is from 5PM to 8PM daily. Be sure make it out to the Mo bar patio which gives the best view of Miami's skyline. This door is kind of hidden off to the left in the bar area but worth finding.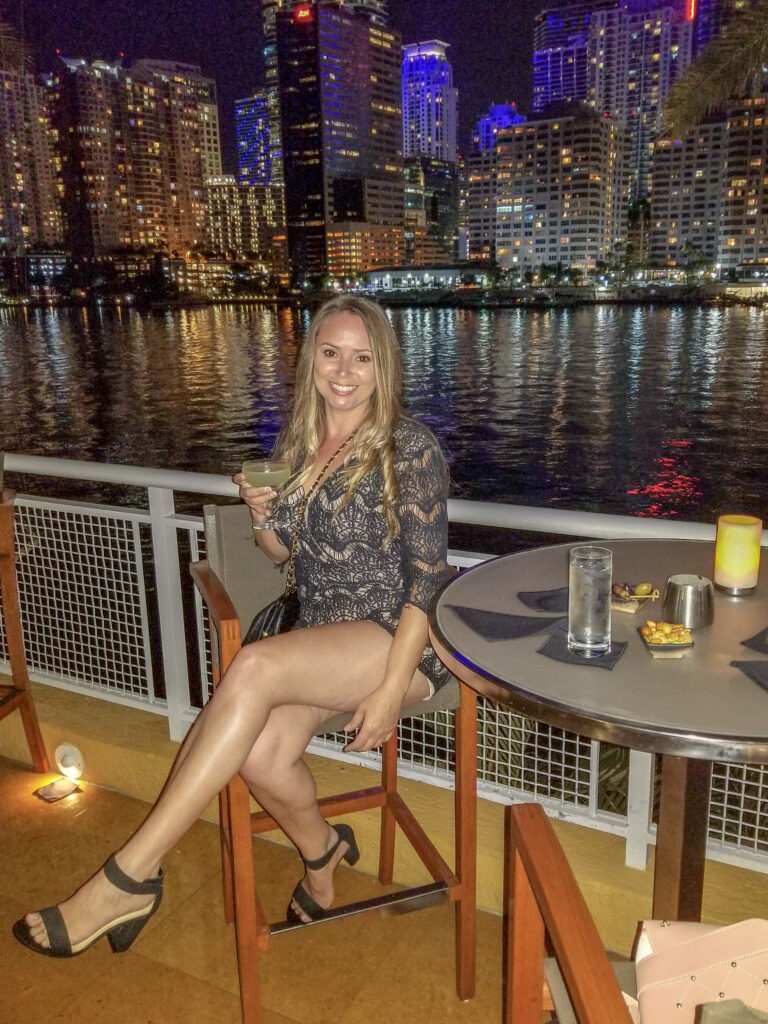 Mo bar offers handcrafted cocktails and beer. They have a full liquor bar and can make just about any drink. I had an apple martini and was not disappointed!
Area 31 – This rooftop bar is located at the Epic Hotel and has excellent an excellent view of the city. Happy hour is on Friday from 5PM to 11PM and Monday to Friday From 5PM to 7PM. Drinks start at $7 each.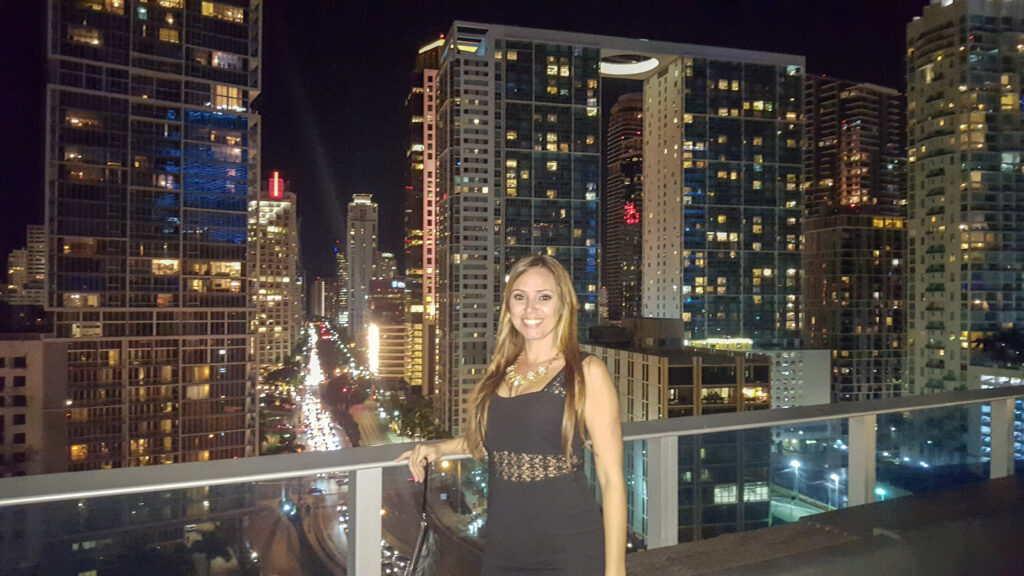 Sugar – Located at the East Miami hotel on the 40th floor. This is a great spot to watch the sunset while sipping on a cocktail. Get here early because this place does fill up quickly. This is a popular hangout spot in Brickell, Miami that serves Asian themed food.
Things To Do In South Beach
South Beach Miami is where all the action is. If this is your first trip to Miami then you have to see South Beach. Ocean Drive is the main drag and is oceanfront with plenty of nightclubs, bars, and restaurants. The food and drinks tend to cost more here and expect to pay more.
Espanola way – This is a very classy part of South Beach. It is very beautiful with some Cuban, Spanish and Italian restaurants.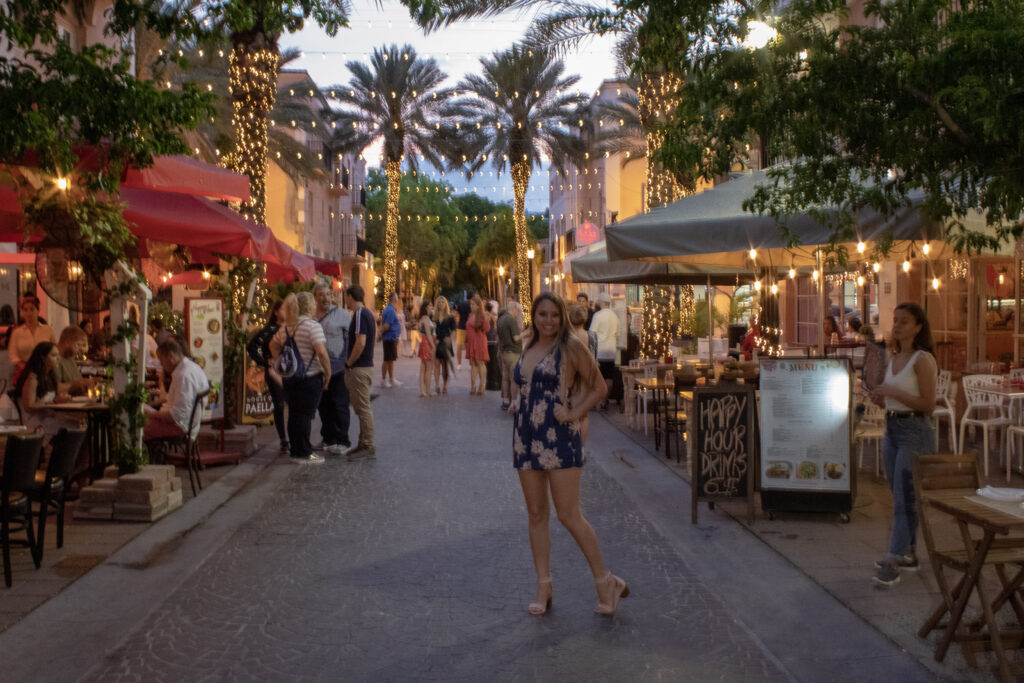 Ocean Drive – Built in the 1910s with a gorgeous historical look. This is the main strip on South Beach and is great for people watching. You can have fun just walking up and down the strip. There are plenty of bars or restaurants to stop into. Be sure to wear comfortable walking shoes because Ocean Drive is 15 blocks long.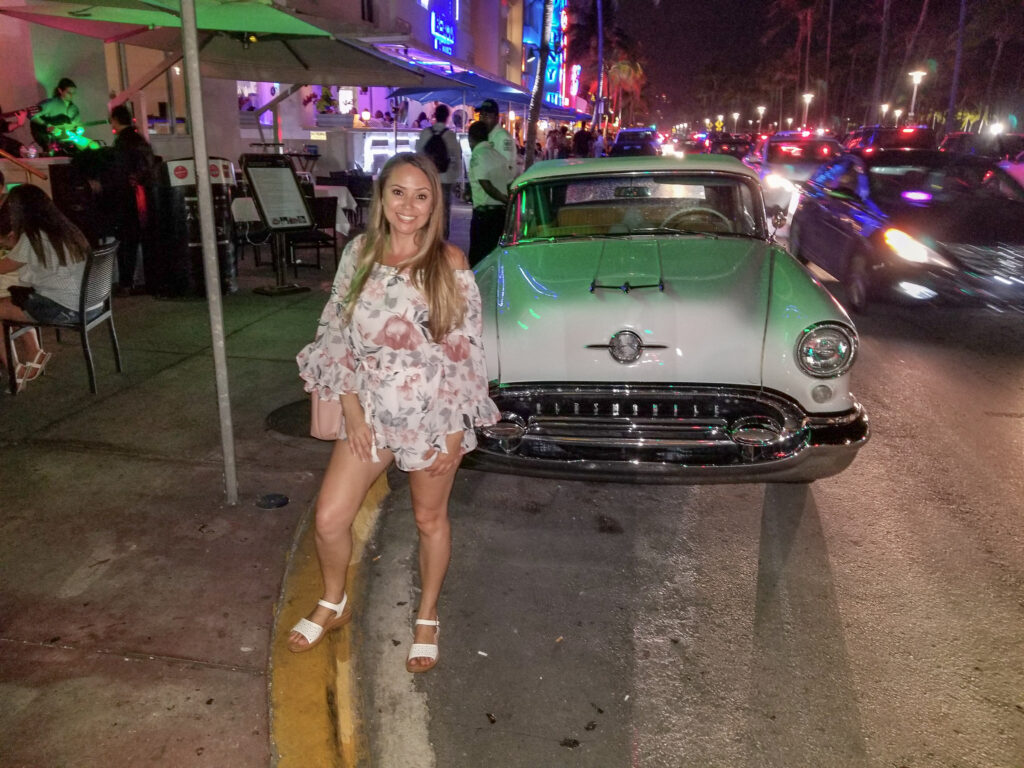 Nikki beach – One of my favorite spots on south beach. They are famous for the Sunday brunch. Grab a day bed or cabana and have a drink or appetizers if you can't make brunch. Nikki Beach turns into a nightclub after 10 PM and is great on Sundays nights. Sunday night is calm on South Beach with not much going on except for Nikki Beach. Contact
Miami Beach guestlist or Prestige Lifestyle Miami to get on the guest list.
Things To Do In Coconut Grove Area
Coconut Grove is quieter with a different vibe than South Beach but has a lot to offer. Spend at least 1 day in the Coconut Grove area.
Vizcaya Museum & Gardens – Spend a minimum of 3 hours here, but a full day could be easily be spent here. The museum closes early at 4:30 PM so get here early to see everything. This estate was truly gorgeous. It was so interesting learning about James Deering's winter home from the 1910s. The gardens are just breathtaking. This is a must see in Miami. The museum is closed on Tuesday so plan ahead.
You can save money and just pay the entrance fee of $22 and see everything. If you want to hear more about the history and learn more, then take a tour for $5 at The Vizcaya Museum.
Disclaimer: The Vizcaya Museum & Gardens was a collaboration with Greater Miami Convention & Visitors Bureau but all photos, tips, and experiences are my own.
Oh My Gosh Brigadeiros – Brazilian coffee shop with the cutest desserts. They have 3 different flavors for the rim of your coffee. I choose the chocolate rim and loved it.
Havana Harry's – Authentic Cuban food with large portions and low prices. My lunch was so big that it came on 2 plates! I actually got 3 meals out of it. Harry's had fast and friendly service with delicious food. This a must do while in Coconut Groves. They have the best dessert milkshakes too.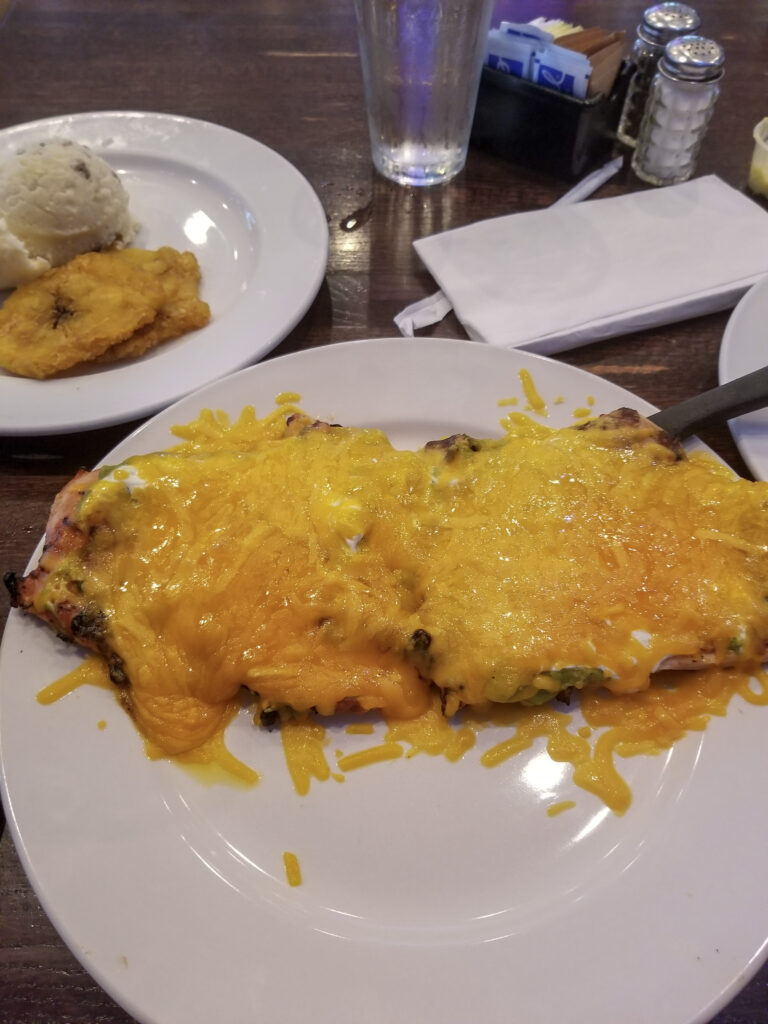 Miami Pool Passes
Another one of the best things to do in Miami is to get a pool pass. Miami has a lot of hotels that offer pool passes. Many hotels offer pool passes that work on a first come first serve basis. These hotels will give you a pool pass if you purchase a minimum amount of food or drinks. This amount ranges per hotel but is usually around $50 to $75 per person. You can also get into these pools by renting a cabana ($150 and up).
Another option is to reserve your pool pass ahead of time with Resort Pass. This way you will know for sure you have the pool pass. It could be stressful showing up to find out the hotel is fully booked that day. The pool passes start at about $25 and go up.
Mondrian Hotel – The Mondrian will let you hang out at the pool all day if you spend a minimum of $50 a person. They have a pool with a view of the bay and a long-distance city view.
National Hotel – You can lounge at the pool all day if you spend a total of $75 or more. They have 2 pools and tons of room to hang out in hammocks and lounge chairs.
Confidante – You can book this pool pass on Resort Pass. You get pool access, towels, and a beach umbrella. Prices start at $40 a day per person.
Grand Beach Resort (Mid-beach Location) – This resort has an adults-only rooftop pool. You can see the bay and the ocean. There are cabanas, 1 pool, and 2 hot tubs. There are 2 pools on the ground floor but that is best for families.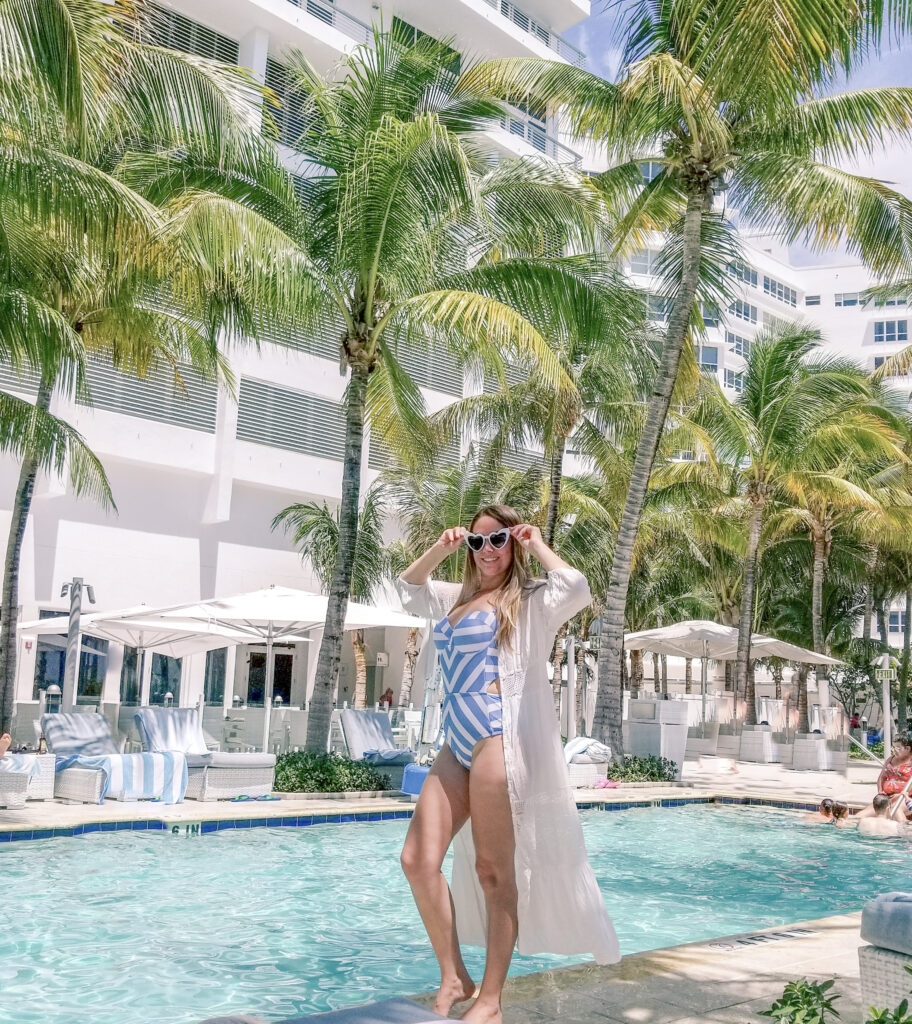 Miami Pool Parties
Miami is the place to come for pool parties! Ladies you can get on the guest-list by contacting a promoter. This will also work for nightclubs.
SLS Hyde beach – Hyde beach, hands down has the best day pool party. Ladies you can contact Miami Beach guestlist or Prestige Lifestyle Miami to get on the guestlist. Contact them in advance to reserve your spot. I reserved with them and had a great time!
Delano Beach Club – This party doesn't start til 7 PM but the Delano has an amazing pool view. Come here for a great pool nighttime party.
Where To Stay In Miami
Miami has tons of nice areas and places to stay. Where you stay will depend on your style and what you are looking for. If you want more of a nightlife and want to walk or uber back to the hotel then stay on South Beach Miami. South Beach Miami is very convenient for walking to many bars and restaurants.
Now, if you prefer it to be quiet but still have places close by. Stay on Mid or North Beach areas. These areas aren't walking friendly, you will need to drive or uber around. Bal Harbour is a nice quiet, upscale area that is walking friendly.
Miami Beach Area Hotels
The Landon Hotel – Located in Bal Harbour close to shops and restaurants. This hotel is a great deal, roughly $110 a night and is clean and quiet. They offer beach towels, free breakfast and complimentary wine between 5 PM to 6 PM every day. I stayed here and liked it. This hotel is great if you want to conserve money on hotel costs. It is also less touristy and easy to find parking in this area. Bal Harbour area is a great place to come and relax.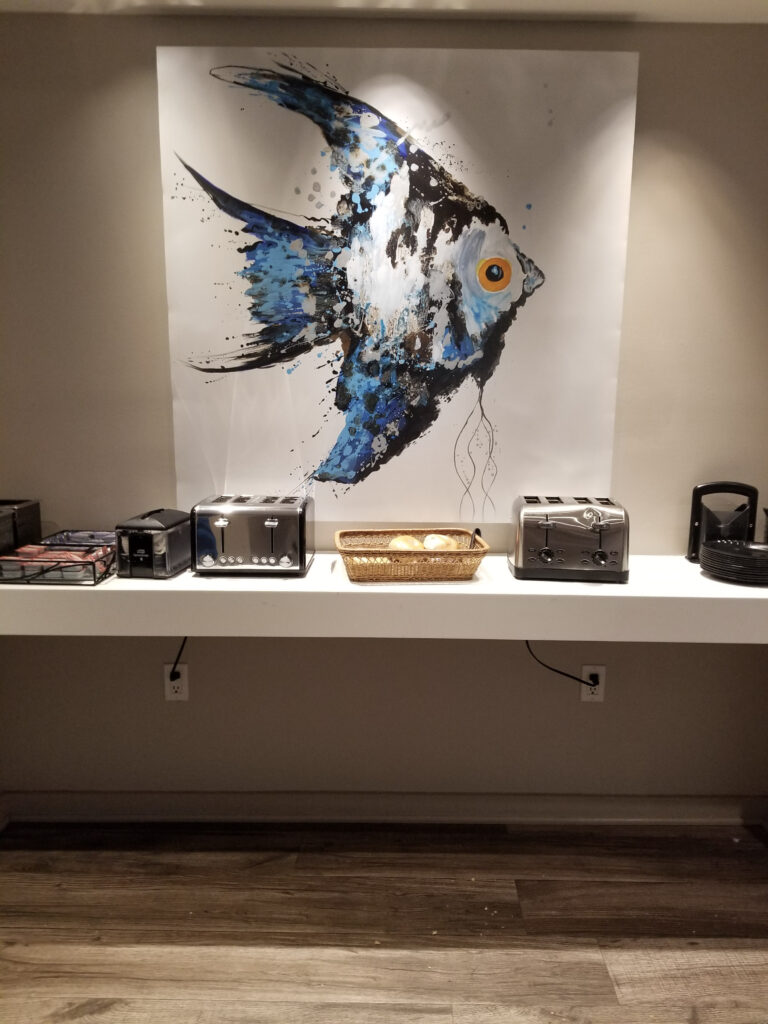 .
Confidante Hotel – Oceanfront property with beach chairs, umbrellas, and a cute pool. This is a Hyatt hotel that costs roughly $219 a night depending on when you book. Check reviews and photos here.
Fontainebleau – Located about 15 minutes from South beach on Mid-beach. This is a luxury Hotel that is oceanfront with a nice pool. Fontainebleau has everything you need from a restaurant, nightclub, pool & bar. View photos and reviews here.
1 Hotel South Beach – High-end luxury hotel with a great rooftop pool facing the ocean. Located on South Beach, this hotel is best for couples or adults. It has a very romantic feel. View photos and reviews here.
Delano Hotel – 4-star hotel, oceanfront with a dreamy looking pool. Located on South beach and walking distance to everything. They have a lively pool that plays EDM type of music during the day. They also offer cabana rentals for guests or non-guests. Check out reviews and photos here.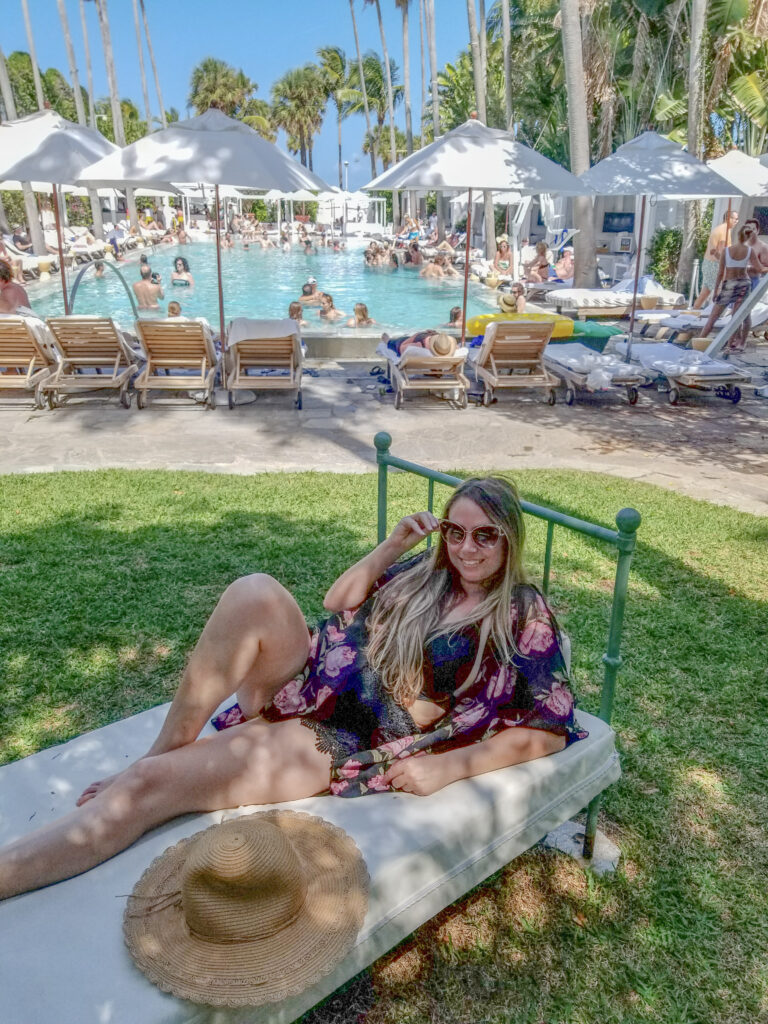 Brickell Area Hotels
East Miami – 4-Star Hotel with great views of Miami and Biscayne Bay. The Rooftop bar Sugar is inside this hotel. It would be very convenient to stay here if you plan on going to Sugar. East Miami also has a nice upscale pool. View photos and reviews here.
Epic Hotel – The Epic Hotel is known for its amazing city views while overlooking Biscayne Bay. Area 31 is located here, so no need to go far for food or drinks. Check out photos and reviews here.
W Miami – Great hotel if you are looking for a mix of nightlife and luxury. There is a nightclub and rooftop pool on the 50th floor. View photos and reviews here.
Mandarin Oriental Hotel – This Luxury Hotel has awesome views of the city and bay. The Mandarin is close to the Brickell town center which is the mall. La Mar & Mo bar are located inside this hotel. View photos and reviews here.
Where to Eat In Miami
South Beach
Tapas & Tintos – Spanish tapas restaurant with tasty food. This restaurant is on South Beach in Espanola Way. It has a great ambiance with authentic Spanish food.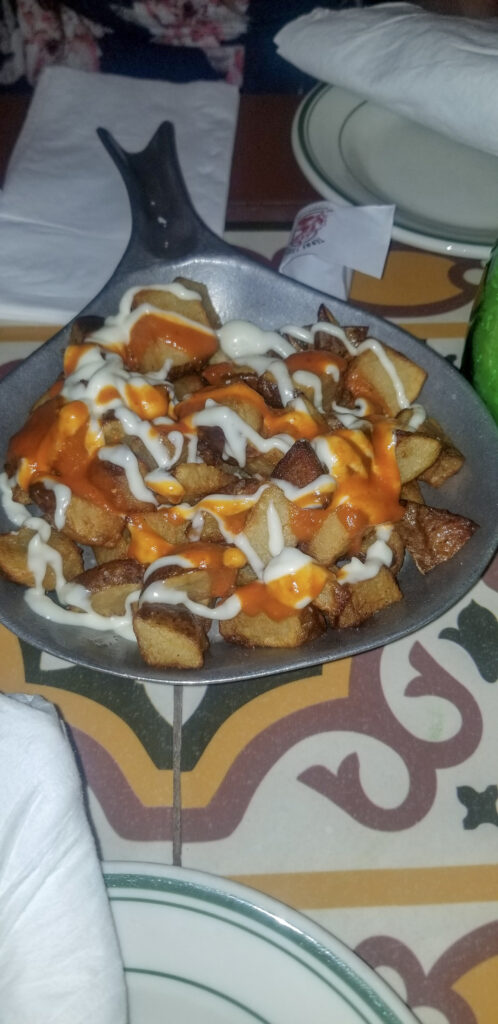 Smith & Wollensky Steakhouse – High-end steakhouse with great sunset views on South Beach.
Bal Harbour
Cafe Ragazzi – This place is an Italian hidden gem. The meatballs and pizza were good and tasted fresh. They provided free bread and bruschetta that tasted so good we got the 2nd refill. Great service.
Coconut Grove
Havana Harry's – Amazing authentic Cuban food. large portions for a low price. The staff is very friendly and give fast service. This was the best deal in Miami for the amount, quality and quantity of food.
Parking in Miami
Be prepared to pay high parking prices if you drive in Miami. Parking can cost around $30 a day at a garage or at your hotel on South Beach. Even most hotels charge on mid and north beaches to park. Very few hotels include parking in your stay, so be sure to check the parking rates before booking.
Metromover – This free service runs in Brickell and downtown Miami. This will transport you to and from the airport. The Metromover is limited on where it goes, therefore, check the map and schedule. However, the parking garages in Brickell charge $8 per hour to park if you drive. Check to see if Uber or Lyft will save you money if you can't take the Metromover.
Miami On A Budget
If you are looking to save money on food, then don't eat on Ocean Drive in South Beach. You can go down a few blocks and find reasonably priced restaurants. You could eat Cuban sandwiches from a mom and pop type place. Miami is known for its Cuban food anyways.
Visit Miami in the shoulder season to get a better deal. The prices rise during spring break, music week or any holiday. Summer is the low season but Miami gets extremely hot. If you can handle the humid, hot days, then go for it! Avoid visiting from Jan to April which is high season.
Book your hotel at least 1 month in advance to get the best price. Shop around and compare at least 3 sites before booking. Check out Snap Travel, they sometimes have good deals.
Drink during happy hour on south beach or Brickell to conserve your budget. Area 31, Mo Bar, Clevelander, and many others have happy hour.
Take the metromover from the airport to Brickell, if you are staying in downtown or Brickell. The metromover is limited on where it goes, so check the schedule.
Areas To Avoid In Miami
These areas can be unsafe especially at night. It is best to avoid these areas. A rule of thumb is to stay close to the oceanside. The parts of Miami that are more inland tend to have higher crime rates.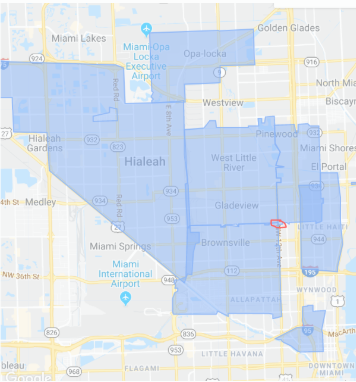 Liberty City (most dangerous) (red dot on the map)
Hialeah
Overtown
Opa Locka
Little Haiti
Shop My Miami Looks
I would pack plenty of dresses, hats, and sandals. Bring a few pairs of sunglasses and swimsuits. Pack sunblock and apply it a few times a day. Leave your jeans at home. Miami gets very hot and humid, so you want to have thin, light clothes.
Beach cover up – Bring at least 2 beach cover-ups with you. These are a must while staying in Miami.
Beach Hat & Sunglasses – I always bring a few pairs of sunglasses to match different outfits. It's nice to have extra in case you lose a pair.
Cocktail Dress – I like to bring 2 cocktail dresses for dinner and evenings out on the town.
Maxi Dress – Pack a thin maxi dress. It gets very hot in Miami and you want a dress that is breathable.
Sandals – You will be doing a lot of walking in Miami. Pack comfortable sandals.
Swimsuits – To be on the safe side, you can bring 3 swimsuits.
Romper – Rompers are great to wear during the day. I love them because they look great and perfect for the heat.
Sunblock – Protect your skin and wear sunblock. It's so easy to get a sunburn while in Miami. I apply it before I leave the hotel.
More Miami Fashion
Miami has so much to do and it's impossible to do it all in one weekend. Take your time and soak up the atmosphere and culture. You can always make another trip if you don't get to see everything. I have been going to Miami for years and always go to a different spot each time. That sums up the best things to do in Miami.
Heading to Orlando anytime soon? Check out my blog post on Orlando.