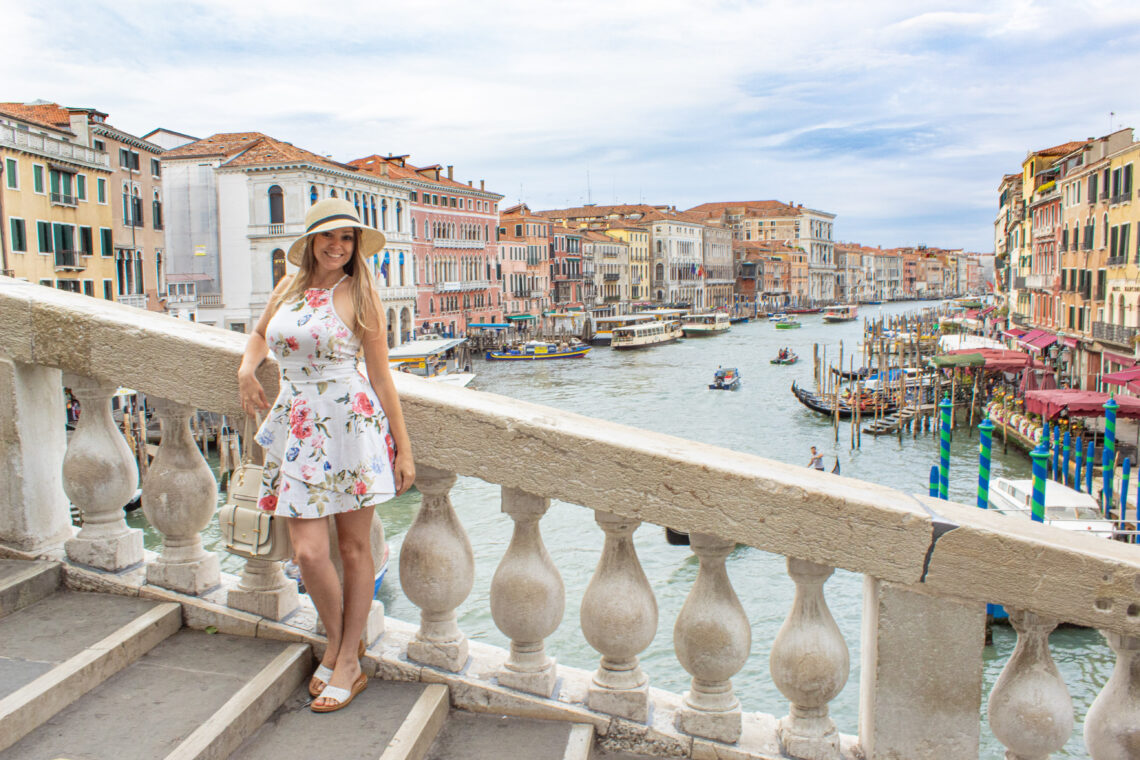 The Ultimate 3 Days In Venice: Venice Travel Guide
Venice Italy can be done in 1, 2, or even 3 days. I feel like 3 days in Venice is the perfect amount of time to explore and it gives you more time to relax. Even though Venice is quite small, there is still a lot to see. There are no roads in Venice! Be prepared to do a lot of walking or boating. My trip to Venice took place in September and the weather was nice. For moderate weather, travel in spring or fall.
Venice consists of 118 islands that are connected by over 400 bridges. There are 6 different districts of Venice which are called sestieres. San Marco, Castello, Dorsoduro, Cannaregio, Santa Croce, and Giudecca make up the 6 districts.
San Marco is the most touristy and has the main attractions like St Mark's Square, Doge's Palace, Grand Canal, and Bridge Of Sighs. The Dorsoduro is where most of the locals stay and you can find authentic food here. I would not recommend eating in san Marco since it will be overpriced and unauthentic. It's fun to go exploring and check out the different districts since they each have there own vibe. Cannaregio is worth checking out and it's where the Jewish ghetto is located.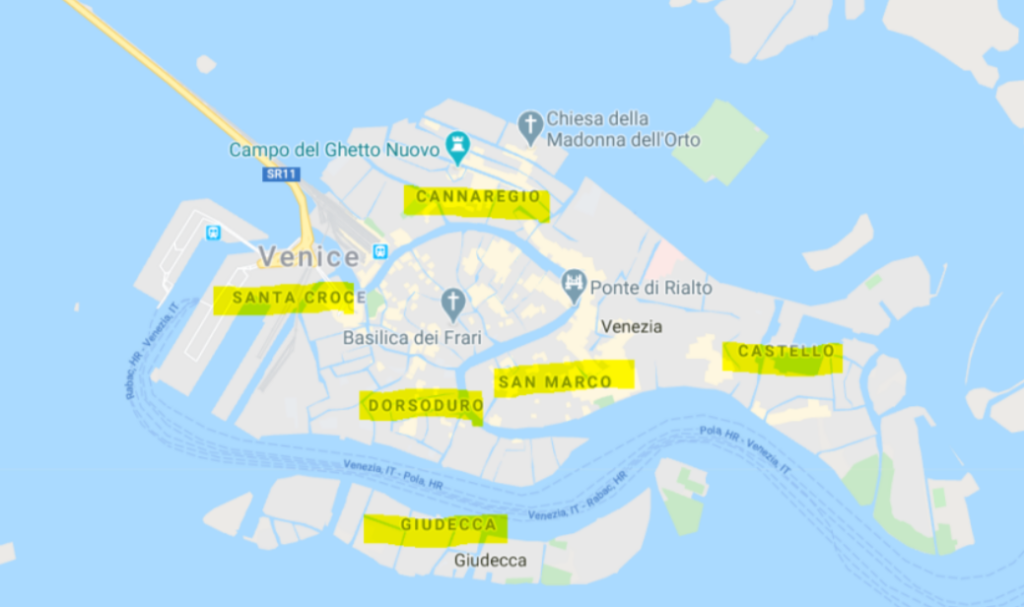 Getting To Venice
You can get to Venice by water taxi or train. I would recommend taking the train to Venice since the water taxi would be costly. Venice has 2 train stations and you want to make sure you get off at the correct one. The train station you want is the Santa Lucia train station.
Getting Around Venice
You can either walk or boat around Venice. Venice does have public boat transportation called the Vaporetto. The tickets are sold at ACTV machines at the boat terminals. They offer daily boat passes which I recommend. These passes also include boat rides to the surrounding Burano and Murano islands. A one-day boat pass will run $20 and if you purchase a 3-day boat pass it cost $40 for all 3 days. A single boat trip that lasts up to 75 minutes and costs $7.50. The boat pass is a good deal if you stay for 3 days in Venice. Be sure to validate your ticket each time you get on the boat. You can get a ticket if you are caught not validating the ticket!
Restrooms
Venice does charge you to use the public restroom. I can say that I never paid to use the restroom in my 3 days in Venice. I chose a hotel in a good location and used the restroom after eating or getting coffee. Don't pay to use the restrooms in Venice. It cost the same price to stop at a coffee shop and buy a coffee then to pay to use a public restroom.
Gondola Rides
Gondola rides in Venice can be quite romantic, it's a once in a lifetime experience. They cost about $65 to $80 just for 30 minutes. The price varies on the time of day and location. If you plan on doing the gondola ride then bring cash with you and pay after the ride.
There is a cheaper alternative to paying the high price of a gondola ride. You can take a ferry gondola ride on the grand canal to the Jewish ghetto. The ride is only like 5 minutes long and it's not a fancy gondola. It cost about $5 to ride though.
Day 1: Venice Italy
I would start the first day visiting the San Marco area. St Mark's Square will be one of the busiest places in Venice. Show up early and buy your tickets in advance online for what you want to do
The St Mark's Basilica – The church is free to view, but there may be a long line. You can purchase a skip the line ticket for just $3 and save at least an hour. The $3 per person is worth it!
Bridge Of Sighs – Another attraction that costs nothing to see! This bridge got its name because this would be the last bridge people would see before they went to prison. They would sigh looking over this bridge.
Doge's Palace – Again this attraction will have long wait times to visit. You can purchase tickets for a tour to save time. The tours start at around $30 per person and they provide a lot of history. I prefer a tour over just browsing by in a museum.
Rialto Bridge – Okay, this isn't in St Marks Square but it is a must-see. This area gets packed around noon, so show up here early to explore or to get photos.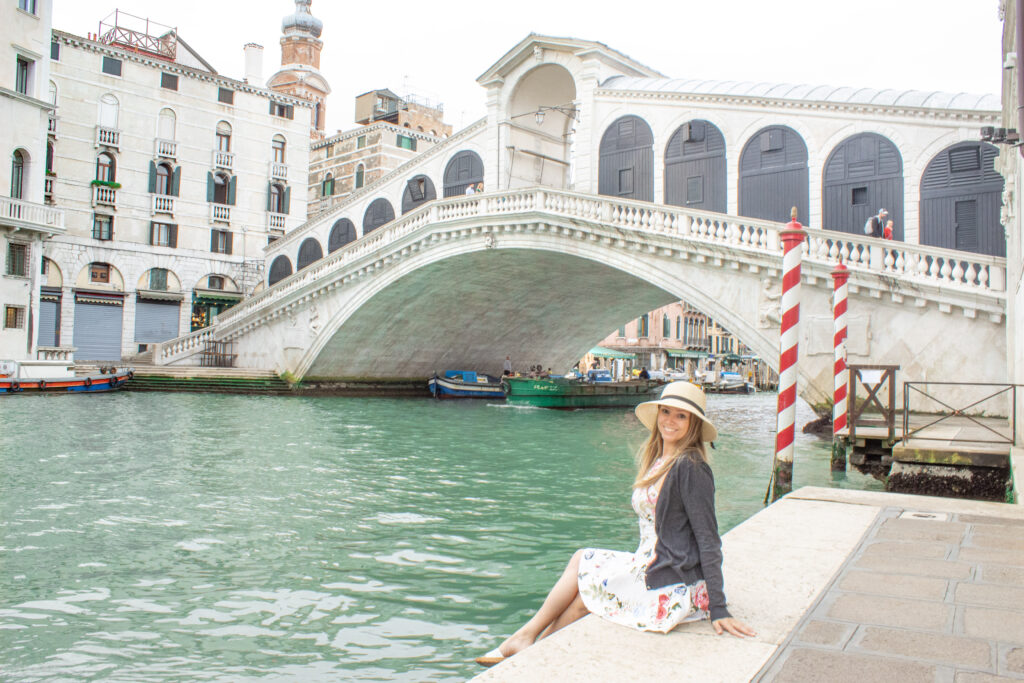 Day 2 : Venice Italy
Explore the rest of Venice like Dorsoduro and Cannaregio (Jewish Ghetto). There is a lot more to Venice than just the San Marco area. I actually prefer this area because it is less crowded with better tasting food.
Visit the Ca 'Rezzonico Museum – This museum focus on the 18th century of Venice and has fine arts and furniture.
Take a history Boat tour of Venice. – Take a small group tour of Venice on a boat. The tour lasts about 1 hour and you will learn about the history of Venice.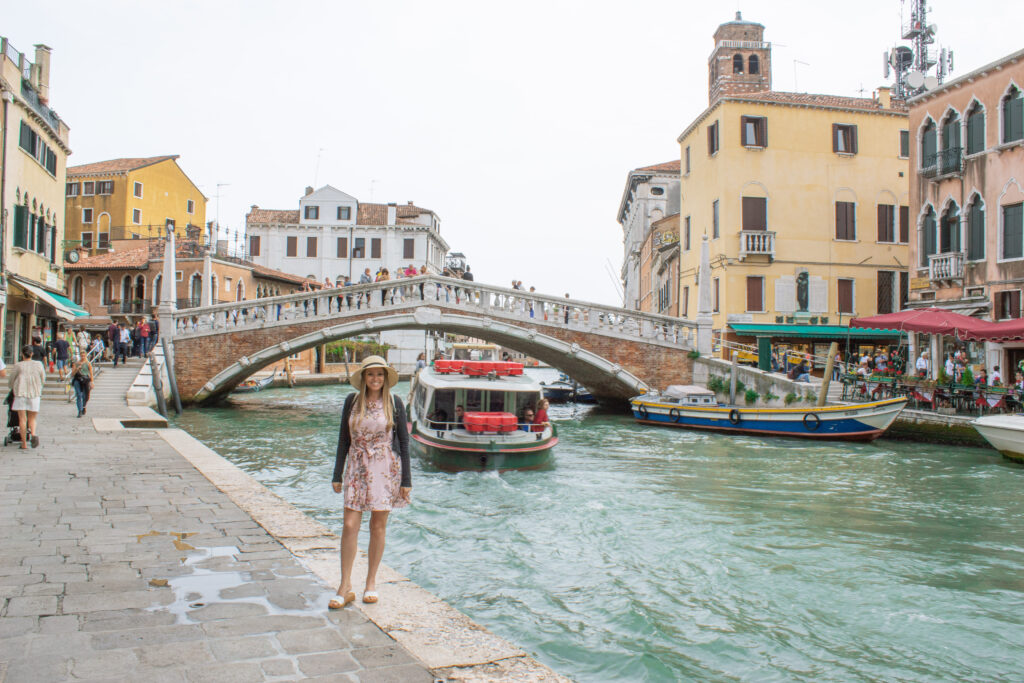 Day 3: Venice Italy
Spend the last of the 3 days in Venice checking out the surrounding islands. There are two islands that are included with the water taxi which are Burano and Murano. Murano has a glass museum and it is only about a 20 min boat ride from Venice. Burano is a little further at about a 1-hour boat ride.
Fondaco Rooftop Terrace – Nice spot to watch the sunset for free. You will need to make a reservation to get access.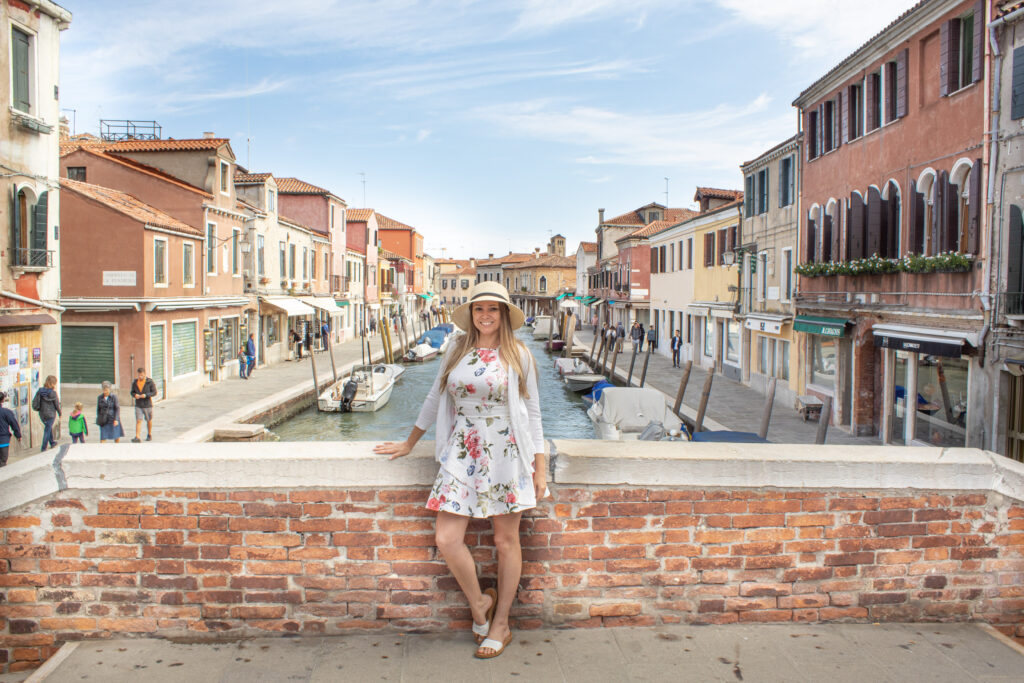 Where To Stay In Venice Italy
I stayed in the Academia district which is where the schools are. I stayed on the Grand canal for only $150 a night at The Hotel Galleria. The Hotel Galleria is a 1-star hotel that is super clean. They have rooms with window views of the grand canal. This hotel baked fresh breakfast croissants that were the best I ever had! The staff was very friendly and helpful. The room I stayed in did not have ac and I did not know that when I booked. It's not bad if you stay in Spring, Fall or winter though. This hotel is close to the boat terminal and the academia bridge. You want a hotel that is close to a boat terminal, so you don't have to spend an 1 hour getting to and from the hotel. It definitely helps when arriving with luggage. This hotel is also easy to find. Venice has many alleys and it can be hard to find your way around.
I would book these hotels as far in advance as possible. A good rule of thumb is a minimum of 6 months. Some very popular hotels you must book 9 months or more in advance.
Hotels with the best views of the Grand Canal
The Gritti Palace – This hotel is located in San Marco and convenient to St Mark Square. It is also on the grand canal with a waterfront restaurant. Find photos and reviews.
Hotel Palazzo Stern – This hotel is located on the Grand canal with fabulous views. They even have a hot tub on the rooftop. Another perk is that it is close to the boat terminal. It's also located in the Dorsoduro area, so it won't be overly crowded all the time. View reviews and photos.
Pesaro Palace – The suite has an amazing view of the grand canal at this hotel. Check out the photos and reviews.
Hotel Danieli – This hotel is walking distance to the main attractions and also close to boat transportation. Stay here for fast access to attractions and boat transportation. The rooms have views of the grand canal. View here.
Budget hotels in Venice
Ca' Zose – This hotel is located close to the grand canal in Dorsoduro area. It is in between to water taxi terminals but still a 10 min walk or so. View photos and reviews here.
Forestria Levi – Located in San Marco and close to a water taxi terminal. This hotel is great for what it has to offer. Check out the reviews and photos.
Ca' Della Scimmia – Located in a populated area close to the Rialto bridge. This hotel is also close to a water taxi. See the photos and reviews.
Mid-priced Venice Hotels
Hotel American Dinesen – This hotel has well-decorated rooms with canal access. It is located in the Dorsoduro area and close to the water taxi. View Photos and reviews.
Hotel Bellini – Located in the Cannaregio area and within walking distance to the water taxi. View photos and reviews.
Where to eat in Venice
Venice has 3 levels of restaurants called osteria, trattoria, and ristorante. Ristorante is the most expensive with trattoria being mid-priced and osteria is the cheapest. While in Venice, I recommend eating away from the touristy areas for the best food. Anywhere near St Marks Square would be touristy and overpriced. You want to go off the beaten path to find a quality, fresh food. Check out Dordosduro, Santa Cruce or even Cannaregio for food.
Dal Moro's – This is fast food pasta that is delicious. It is budget-friendly and fast.
Bigoi – This is another fast-food Italian spot with good food. I did eat here and recommend it.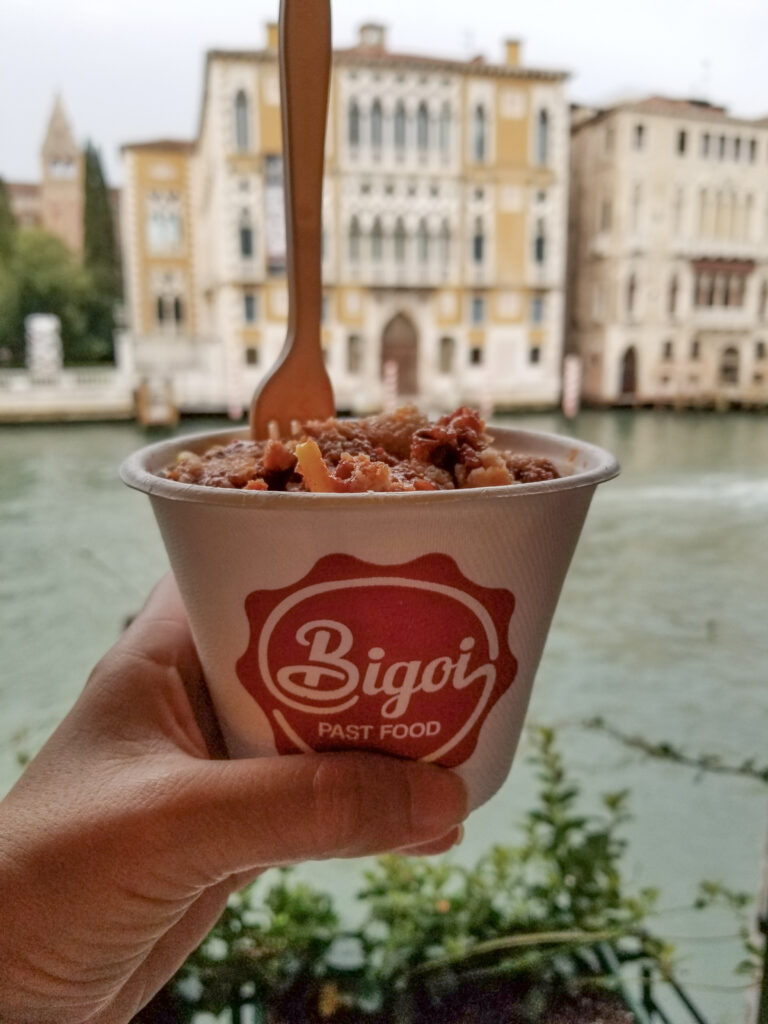 Rio Novo – Located on a canal with waterfront dining patio options. Food was moderated pricey and staff was super friendly. The owner works in the restaurant and makes you feel welcomed.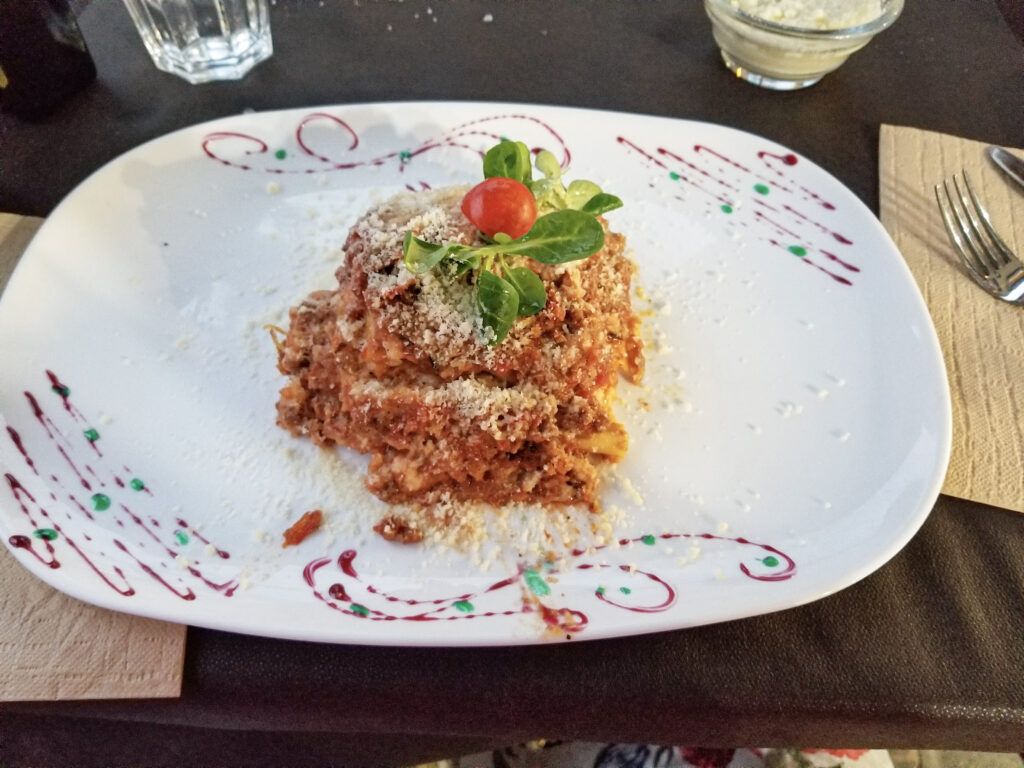 Antico Forno – Try the pizzacia here!! The pizzacia is made of focaccia bread and served like a pizza with toppings.
Gelato – You can't go to Venice without trying the gelato!
Last but not least, you don't really need to learn Italian to visit Venice. Everyone speaks English well! Only 20% of the Venice population is Italian and the rest are tourists. That is my Venice travel guide for 3 days in Venice. Take your time to explore and you should have a great time. If you need more articles on Europe check out my other blog posts here on Paris or Switzerland.