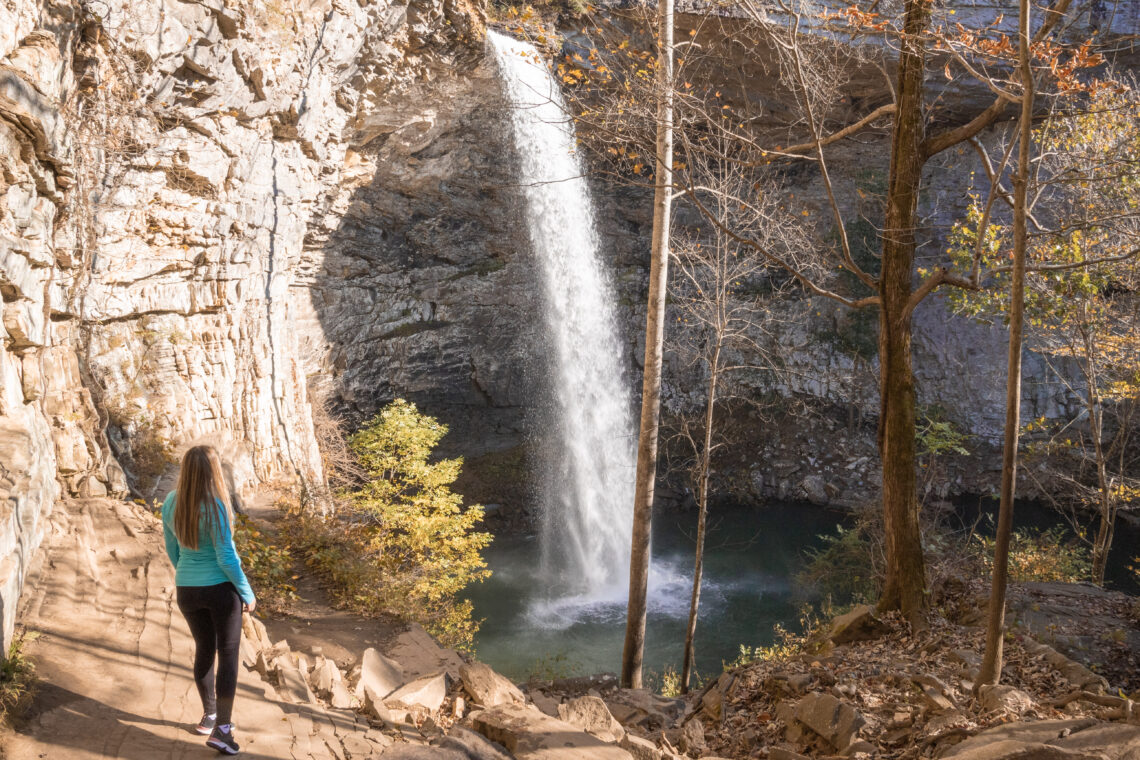 6 Beautiful Waterfalls Near Nashville
Tennessee is home to many waterfalls near Nashville. Most of the waterfalls are just under a 2-hour drive and located south & east of Nashville. The good thing is you can visit a few in 1 day if you time it right since the waterfalls are near each other.
Some waterfalls are located on private land or resorts and have no trespassing signs. To save time, I would visit the waterfalls in the Tennessee state parks then call or look online to make sure you are able to visit. Here is the list of the waterfalls near Nashville.
1. Greeter Falls
Greeter Falls was one of my favorite waterfalls near Nashville. It's actually located in the South Cumberland State Park. It was a short 1 hr and 1/2 half drive that was easy to navigate. The hike was easy and took about 30 to 45 min or so. Once you arrive at the waterfall there are plenty of places to relax or even take photos. You can actually hike to the top of the waterfall and the base.
Now, there are several other hikes in the same state park as Greeter Falls like the blue hole. There are a few other waterfalls in the park that are harder to hike to and not as nice. Greeter Falls was the best waterfall at that state park. If you have time you can explore the other waterfalls, I suggest going to another waterfall close by like Foster Falls.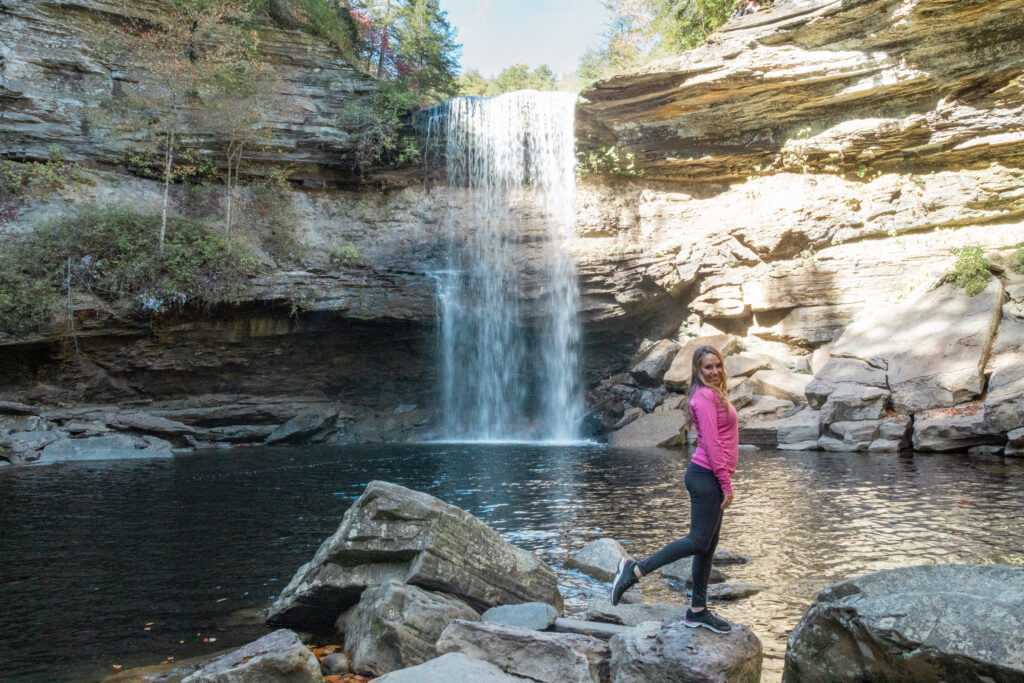 2. Cummins Falls
Cummins Falls is located east of Nashville in Cookeville and takes a little under 2 hours of travel time from Nashville. It's also the 8th largest waterfall in Tennessee that has a 75-foot waterfall! This waterfall hike is moderate with a lot of elevation. You will need to climb rocks and they could be slippery. It will take at least an hour to reach the waterfall and 1 hou back. Check to see what the flood level is before heading out.
Cummins Falls is subject to flash flooding. The Gorge is part of the hike that is basically a river that you must hike through to access the base of the waterfall. So expect to get your shoes wet, I recommend wearing water shoes. They can close this part of the hike at any time due to floods. I recommend not going when it has just rained or about to rain.
You also have to purchase tickets to see the base of the waterfall. You can purchase in advance online or when you arrive you can buy on your phone by an app. It costs $6 to access the base of the waterfall. They will not issue refunds if they close the Gorge.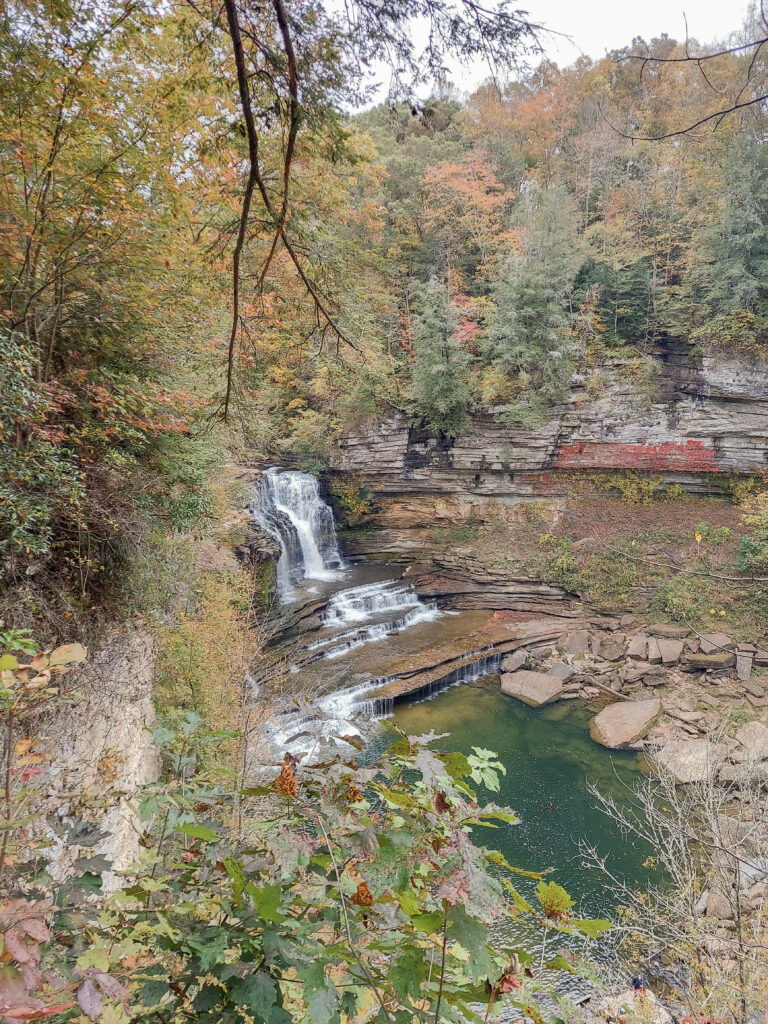 3. Burgess Falls
Another waterfall near Nashville is Burgess Falls. This state park has a few hikes and has an overlook to view the Burgess Falls. You will see more than one waterfall on your hike to the Burgess Falls. The hike is quite scenic since you hike along the river, so you see many good viewpoints. This waterfall can close due to flooding as well, so check the Burgess Falls State Park website or call to see if they are open.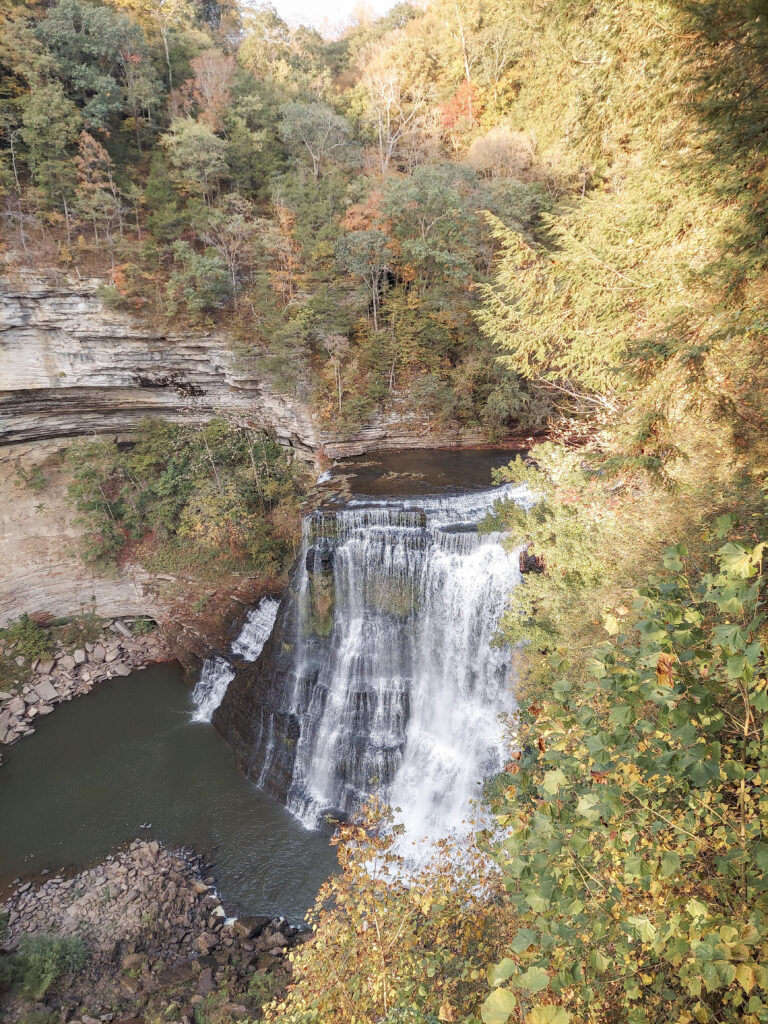 4. Ozone Falls
Ozone Falls is the furthest from Nashville but on the way to Knoxville or even Asheville. So if you are heading that way, check out Ozone Falls. It is located directly off the road and has a short trail to see the top of the waterfall and the base. To see the base of the waterfall, you will hike down rocks that can be slippery. It takes about 15 to 20 minutes to hike to the base and you can access the top of the waterfall in about 5 minutes. Ozone Falls has a 110-foot waterfall that ends in a deep blue pool of water.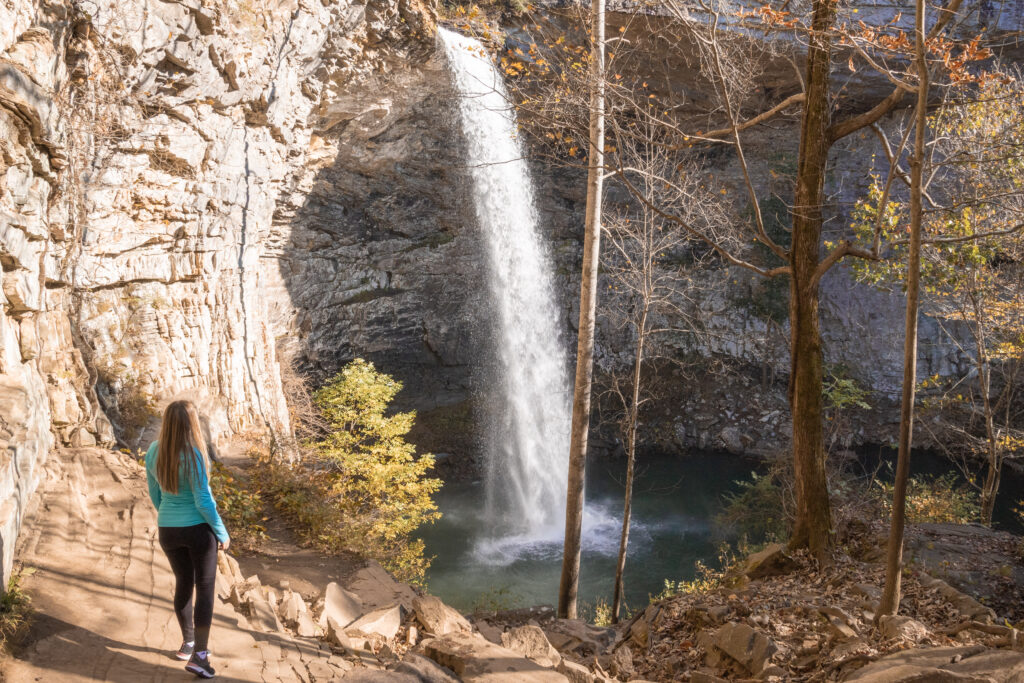 5. Twin Falls
Another waterfall near Nashville is Twin Falls located at Rock Island State Park. You could actually visit Cummin Falls, Burgess Falls, and Twin Falls on the same day or two. They are located very close to one another about 30 minutes apart or so.
There is no hike to access the waterfall, but you can see it from an overlook. This waterfall is similar to Cummins Falls in which it has a gorge that can have flash flooding. The water can rise very quickly and you will need to reach higher ground.
6. Carmac Falls
The Carmac Falls is located at the Evan Mills Resort. They offer a day trippers pass for $50. The day pass includes access to the waterfall, lunch, and access to all outdoor/indoor activities. They have hammocks that you can lounge in or if you are up for some darts or tennis you can do that too. It's basically a day pass to the property. This is perfect if you are looking for a short hike and would like to do a scenic lunch with a view. This pass has best the best of worlds waterfalls and relaxing at a resort! You do need to make a reservation for this pass as it is not always available.
Now there are plenty more waterfalls near Tennessee, this is just a list of the top 6 waterfalls. Many of the state parks have more than 1 waterfall and many hikes. I would recommend checking out the state of Tennessee State Parks website for park information. They offer tours or even cabins that you can stay in to explore around more.
If you are looking for the best places to eat in Nashville then check out this list.