8 Best Niagara-On-The-Lake Wineries (Updated 08/2020)
Niagara on the lake in Ontario Canada is wine country. It is one of many few places that actually produce ice wine and is the top ice winemaker in the world. Niagara on the lake wineries are just a short 30 min drive from Niagara Falls.
Ice wine was first made in Germany in the late 1700s by accident. It's created when the grapes are left on the vine to freeze. The grapes are then squeezed while frozen. They only squeeze a small amount of the juice which is the most concentrated part of the grape. The sugar in the grape does not freeze but the water does which creates a very sweet wine. Cold winters are needed to make the ice wine which makes Canada the ideal place to produce the ice wine. The temperature must reach -8 degrees to make the ice wine.
Ice wine is a very sweet wine with a lot of flavors. While in Niagara on the lake, you must try ice wine at least once. Many of the wineries offer samples or flights of wine. Now, ice wine does cost more than regular wine but it doesn't cost much to do a tasting. A single tasting should cost around $6. Here is my list of the best wineries in Niagara on the lake.
Colaneri
Colaneri – The wine at the Colaneri winery is so flavorful. The Colaneri winery uses an Italian style called appassimento to grow the wine which makes the wine sweeter. They offer wine tastings starting at $10 a person for 4 different types of wine. The Colaneri Estate does have the ice wine and it costs an extra $5 to try. You can also upgrade and try Syrah or the Coraggioso Amaroso which is a cabernet.
Currently, they do not offer wine tours due to remodeling. Most of the Niagara On The Lake wineries do offer wine tours, but be sure to stop here for the wine. It's worth it! The staff here are very knowledgeable about the wine and super friendly.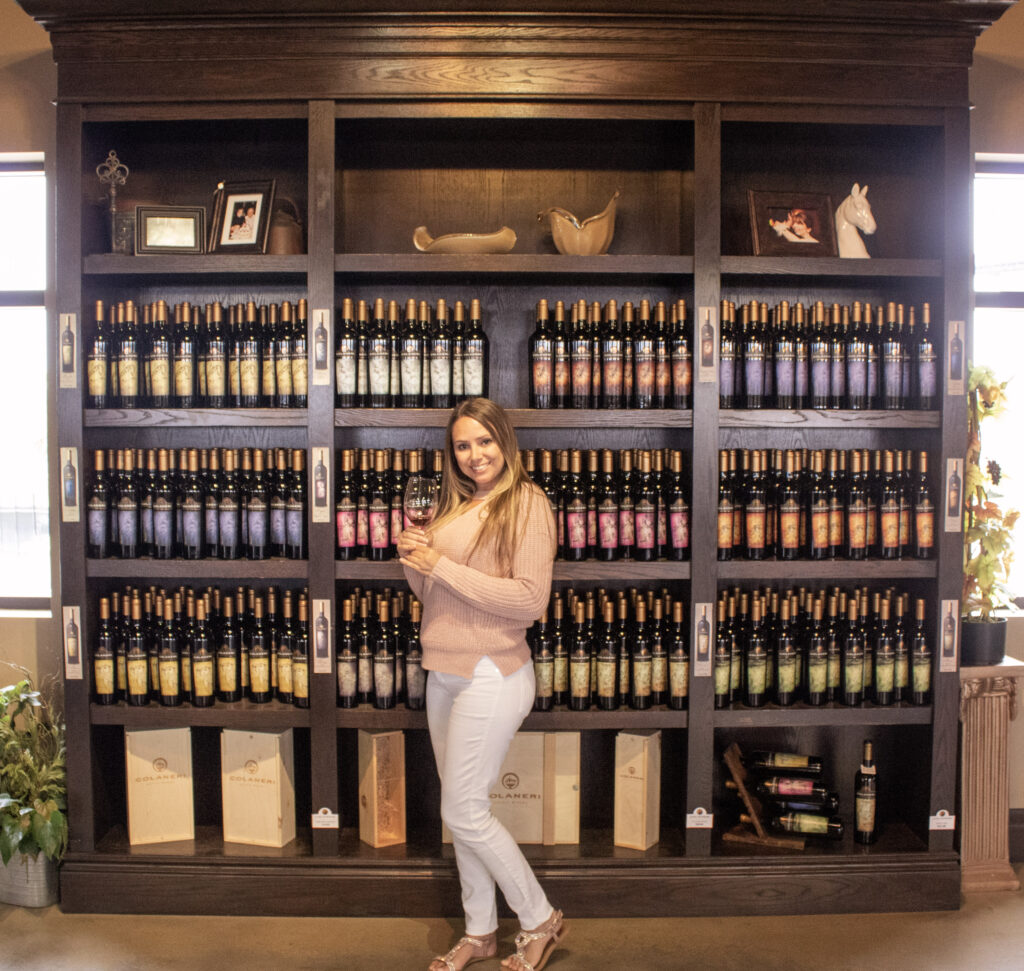 Peller Estates
Peller Estates – This is the winery to visit if you plan on eating lunch or dinner at the vineyard. They have 3 different restaurants to choose from with vineyard views.
The Peller Estate Winery offers wine tours starting at $35 a person. The greatest winery tour includes the ice room which is kept at -10 degrees. The room has been completely remodeled and larger now which has tons of ice wine. They also have other tours that include cheese or chocolate. Peller Estates is guaranteed to have something for everyone. This is a one of a kind room and definitely recommend checking it out!
Konzelmann Estate Winery
Konzelmann Estate Winery – This winery is located on Lake Ontario with waterfront views. The Konzelmann Winery started in a small town called Uhlbach, Germany in the early 1900s and moved to Canada around 1984. The public wine tours start at only $10 and include a few tastings.
The Konzelmann Estate Winery is a beautiful winery with some of the best views on lake Ontario. Visit this winery if you are headed to downtown Niagara On The Lake because it's just 5 minutes away. You can have the best of both worlds with a cute downtown then a quiet peaceful winery.
Reif Winery
Reif Winery – This is one of Canada's newest wineries, in fact, it was founded by Ewald Reif in 1982. The wine making techniques trace all the way back to Germany in the 1700s. It still remains in the family today except nephew Klaus Reif owns it today. The Reif Winery is known for planting the first Vitis Vinifera vines in the Niagara On The Lake. The Vitis Vinifera vines is a wild grape native around central Europe.
The Reif winery has a sensory garden that guests can walk in while sipping wine. They also have public wine tours starting at $10 a person.
Trius Winery
Trius Winery – If you are a red wine lover, then you have to stop at Trius Winery. They are Bordeaux inspired and specialize in red wine. They offer music festivals in the summer. This winery is right beside the Wayne Gretzky Winery, so easy to wine hop. They offer wine tours starting just $15 but the tour I recommend is The Trius Tour which is $35. The Trius Tour takes you to Canada's largest underground cellars and it's totally instagrammable.
Wayne Gretzky Winery
Wayne Gretzky Winery – Wayne Gretzky is a winemaker and his family has a history of winemaking. This winery has it all from beer, whiskey to wine. They offer flights of wine, so you can taste many different types. Go check out the brand new beer garden where you can enjoy your freshly brewed beer.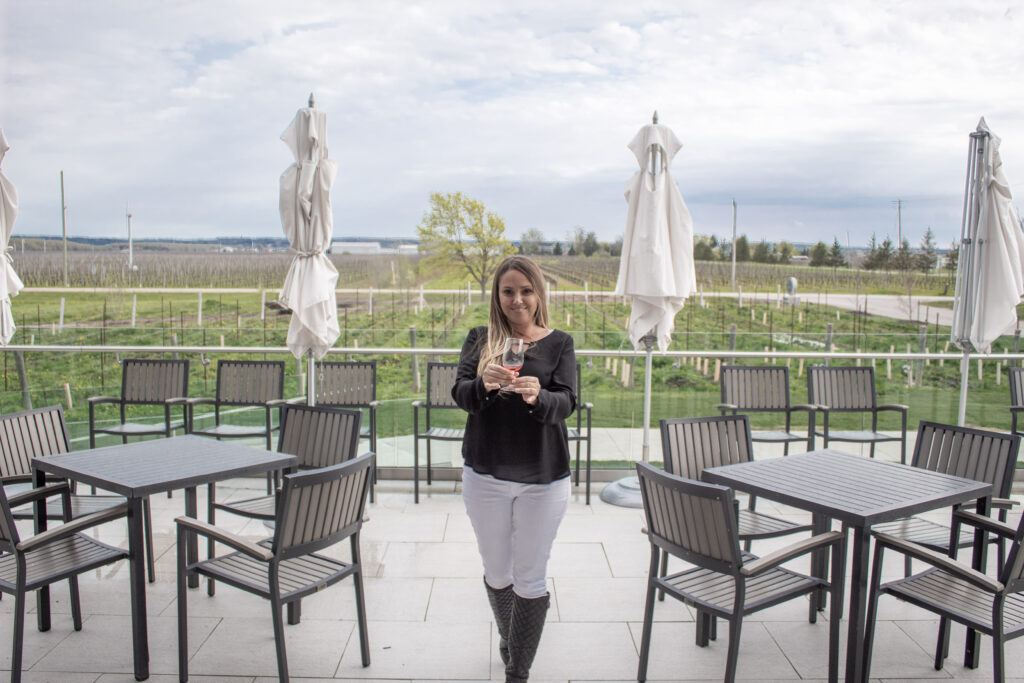 Jackson Triggs Winery
The Jackson Triggs Winery was established in 1993 on 11.5 acres of land in Niagara On The Lake. This is a great spot to see concerts in the summer since they have an amphitheater. Most of the concert tickets usually go on sale in April. Visit Jackson Triggs Winery for good wine and music!
Two Sisters Winery
Two sisters Winery – This winery is known for the ultra-premium red wines like Cabernet Franc and Cabernet Sauvignon. The two sisters vineyard offers tastings and tours 7 days a week starting at $34 a person. Come here if you want an elegant experience in Niagara On The Lake.
Give yourself at least 1 day to explore Niagara On The Lake wineries. Even though, you could easily spend a weekend here. Colaneri winery doesn't offer any tours or food at the moment but they make up for it with the wine. Visit Colaneri if you want a sweet delicious wine. Two sisters vineyard and Trius Winery are great if you love red wine. Wayne Gretzky Winery offers the best variety from beer, wine or whiskey.
Niagara On The Lake also has a nice downtown area that could easily be a day trip or weekend trip with plenty to do.
Best Places To Stay In Niagara-On- The-Lake
Prince Of Wales Stay at The Price Of Wales if you want to be in the heart of downtown Niagara-On-The -Lake. This hotel is walking distance to many shops and places to eat.
Riverbend Inn & Vineyard is great if you are looking for more of a country stay. This place would be perfect if you wanted to check out many nearby wineries. This is also a private vineyard. View photos and reviews here.
Queens Landing This hotel has a nice indoor pool with a bar and restaurant. This hotel still has a country-like feel but is close to downtown. You can have the best of both worlds here. View photos and reviews here.
Looking for more blogs on travel? Check out the rest of my blog for travel destinations.