How To Find Cheap Flights To Europe 2019
A lot of people think they can't afford to fly to Europe. Or they might think that you need to save a ton of money for the flight. You might have done a quick search and found flights to cost $1500 a round trip to Europe. It doesn't have to cost a fortune to fly to Europe. You can actually fly to Europe from the United States for as little as $419 a round trip! It just takes a little planning and research and you can save big. Follow the steps below to find cheap flights to Europe.
1. Get Familiar With Flight Prices To Europe
My first step on finding a cheap flight to Europe is to get familiar with the flight prices for multiple locations. I will set up flight alerts at Sky scanner or the hopper app. Select several dates and cities to monitor and make sure some are one way and round trip flights. Sometimes you can get a deal by choosing one ways flights. Or find a flight that is more convenient at the same price as a round trip.
I like to get an idea of the costs of flying to a specific location. This is an important part because after viewing prices you will know what a good price is when you see it. This doesn't take a lot of time. I would say monitor flights for about a month or so. Start this process months ahead of time. Monitor for as long as you need to until you know what a good price is.
Google flights has a tool where you can look at the cheapest times of the year. Travel in low or shoulder season to save on flight costs but sometimes you can find a deal in high season.
2. Search For Different Flight Destinations
Another way to save to big on flights to check different cities to fly from. You might have to drive an extra hour but could save hundreds. Weigh out the options and see if its right for you. You can always save money by choosing a route that takes more time.
Now, some flights to Europe could take 16+ hours just to get to your location. I prefer to take a nonstop flight or a short layover. You can still purchase this flight for cheap.
3. Check The Airline's Direct Website
Another way to find cheap flights to Europe is to check the airline's direct website. A lot of times you can get the flight cheaper just by booking directly. Most airline companies have flight calendars that you can compare prices like Norwegian. The flight calendar is the best to find the cheapest days to fly with a specific airline.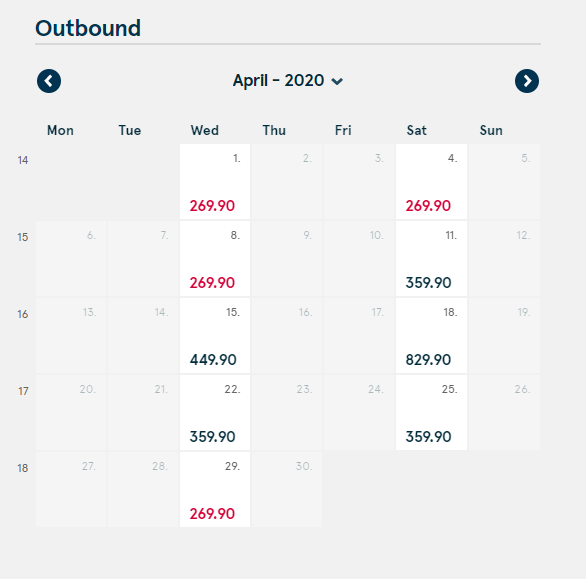 4. Check All Fees Before Booking A Flight
Be sure to do the checkout process without booking to check the fees. A lot of times you will see a lot of extra fees like taxes and baggage fees. You have to consider all of this and look at the total price. Sometimes it will seem cheaper til you get to the end. Always compare the final price!
5. Be Flexible With Travel Dates
Tuesday and Wednesday tend to be cheaper than any other day of the week. Always check to be sure. You can save hundreds just from traveling on a different day.
Summer is peak season in Europe which is the most expensive and crowded. Spring and fall are both shoulder season which has good weather and prices. Winter will be the cheapest time to fly to Europe but it might be cold. It all depends on where you want to go and your interests. I have seen some flight to London only $300 a round-trip. I have seen flights as low as $200 to London from Florida in the winter.
6. Book Your Trip Based On Flight Prices
Before I even book a trip, I start looking at flight prices. The cost of the flight determines where I go. Some places will always cost more depending on where you live and where you fly from. Sometimes you can find a similar destination for half the price. Find out what you want to do and research similar places.
7. Fly Into A Major City
It is cheaper to fly into a major airport or city versus a smaller one. For example, Paris, London, Barcelona, Portugal & Amsterdam tend to be fairly cheap to fly into from the United States. You can then take a train or another flight to your final destination. Again, this may take some extra time to get to the final destination but you can save. You have to weigh out what is more important time or saving. Then take into consideration how much time you have. Is your trip a week or 2 weeks long?
Visiting a smaller village or town will cost more money and take more time. Usually, it takes any extra train or flight to arrive at these places. Just be prepared.
It will be cheaper to do a round trip flight to a major city than doing 2 one way trips. The cheapest way to get to Europe is to do a round trip to London, Portugal, Amsterdam or even Paris and stay there for 1 week. The more countries and cities you visit the more it will cost.
Now, you can get lucky and get a deal on 1-way trips it just takes more time to research to plug in different dates and locations.
8. Book Your Flight Months In Advance
Start looking at flights about 8 to 9 months in advance to find a cheap flight to Europe. Book the flight 7 to 6 months in advance. The flights that will be a good deal will most likely not have any cancellations, so keep that in mind.
You also need to book in advance so that you can start booking your hotels, trains and some activities. If you are going to a small village or town like Cinque Terre then you will need to book the hotel well in advance. I would book at least 6 months in advance to get the best for your money. However, I did see that some of the top boutique hotels were all full 6 months out. So book as soon as possible! You can always reserve a hotel that has a free cancellation then cancel if you find something better.
The trains that take you from country to country need to be booked a few months out. You won't know what train you need til you book your flight. I suggest booking the flight as early as possible. It will help conserve costs on your entire trip.
9. Fly With A Budget Airline
One of the most cost-effective ways of finding a cheap flight to Europe is by flying with a budget airline. Norwegian is a budget airline that has some great deals on flying to Europe from the United States. There will be times when luxury airlines do have a deal to flying to Europe. You will be lucky to find that. It may save a lot of time to look at the budget airlines instead.
10. Don't Check Bags
My last tip for finding a cheap flight to Europe could save you $200 per flight. Bring a carry-on bag! This will depend on how long you are going to Europe for and what season you are traveling in. If you stay at an Airbnb you may be able to wash your clothes to conserve on space in the suitcase. You could step up your packing skills and pack lightweight clothes and travel when it's warmer.
I have learned in the past once you see a good deal, book it! Usually, in my experience, you will not see that deal again. Then once you have booked your flight, don't waste time checking to see if there are cheaper flights. It's useless and will drive you crazy!
Finally, with all these tips you are guaranteed to find cheap flights to Europe. You do not have to be rich to travel to Europe. It is possible to fly for a little as $300 a round trip. It just takes some planning and research.
Please feel free to reach out to me by email or leave a comment if you have questions.
Check out these articles if you are visiting Costa Rica or Mexico.